Publication:
El debate sobre la calidad de la educación en la reforma constitucional mexicana de 2013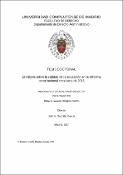 Files
Authors
Advisors (or tutors)
Editors
Publisher
Universidad Complutense de Madrid
Abstract
Los derechos humanos son aquellos inherentes a la condición humana, y otorgan libertad, reconocen la dignidad y garantizan la integridad de los individuos. La educación esta reconocida como un derecho humano y este reconocimiento esta sustentado desde 1948 en la Declaración Universal de los Derechos Humanos DUDH, asi como en la Declalación Americana de los Derechos y Deberes del Hombre DADDH de ese mismo año. A partir del año de 1990, se consensó a nivel internacional que el derecho humano a la educación ya no se limita a que los Estados garanticen el acceso, en términos de gratuidad y obligatoriedad, sino que la educación pública otorgada sea de calidad para todas las personas. Esta postura se impulsó desde la Unesco, a través de la declaración de la Conferencia Mundial sobre Educación para Todos (EPT) y el Marco de Acción de Dakar, celebrado en el año 2000. En México esta nueva visión se incorporó a partir del año 2008 en el marco de la Alianza por la Caldiad de la Educacion. Esta postura dirigió una nueva tradición de investigación, análisis y diálogo sobre la importancia de cada uno de los factores que inciden de manera directa en el cumplimiento de esta demanda, y se concluyó, a partir de diversos estudios y posicionamientos, que el "núcleo esencial del desafío" es el docente ya que el sistema educativo se sustenta en el recurso humano. Esta es la base concepctual que sustenta el objeto de estudio de esta investigación, la reforma constitucional en materia educativa promulgada en 2013...
Human rights are those inherent in the human condition, and grant freedom, recognize the dignity and ensure the integrity of individuals. Education is recognized as a human right and this recognition is sustained since 1948 in the Universal Declaration of Human Rights as well as in the American Declaration of the Rights and Duties of Man of that year. Starting in 1990, was international consensus that the human right to education is no longer limited to states to ensure access in terms of free and compulsory, but public education given is of quality for all people. This position was promoted from the Unesco, through the declaration of the World Conference on Education for All and the Dakar Framework for Action, held in 2000. In this new vision Mexico joined since 2008 in the framework of the Alianza por la Calidad de la Educación. This stance led a new tradition of research, analysis and dialogue on the importance of one of each of the factors that have a direct impact on the status of this demand, and concluded a number of studies and from positions that the Essential core Challenge is the teaching and the education system is based on human resources. This is the base that supports the conceptual study of this research about the constitutional reform in education promulgated in 2013...
Description
Tesis inédita de la Universidad Complutense de Madrid, Facultad de Derecho, Departamento de Derecho Administrativo, leída el 25-01-2016
Collections