Publication:
El derecho de acceso a la información ambiental: un estudio de los ordenamientos jurídicos español y argentino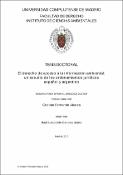 Files
Authors
Advisors (or tutors)
Editors
Publisher
Universidad Complutense de Madrid
Abstract
El paradigma de producción construido a partir de la Revolución Industrial y las consecuencias derivadas del mismo, reflejaron la probabilidad cierta de la aniquilación definitiva de los recursos naturales en razón al frenético ritmo impuesto por las sociedades de consumo del modelo liberal-capitalista. Al Derecho, como regalador de conductas humanas, se le asigna la tarea moderar la permanente tensión existente entre progreso social y económico, y la protección de los recursos naturales. Más allá de todo análisis jurídico que se efectúe en las páginas que siguen, afirmamos de manera contundente, que una eficaz conciencia ambiental sólo puede tener cabida a través de un correcto conocimiento de la persona en temas ambientales. De esta manera, se efectiviza la intervención de la sociedad en temas ambientales relevantes, cristalizándose (a participación en una de sus variadas formas, a través del derecho de acceso a ese tipo de información. En ese sentido, el derecho de acceso a la información ambiental es un notable instrumento jurídico que vigoriza el nivel de participación de la comunidad y que tiende a tornar más eficaz y enérgico al derecho subjetivo ambiental al que se refiere...
The paradigm of production built after the Industrial Revolution and the consequences derived from it, reflect the possibility of the complete destruction of natural resources due to the frenetic rhythm of the consumer societies of the liberal- capitalist model. The Law, as regulator of human conducts, has the duty of moderating the permanent tension between social and economic growth, and the protection of natural resources. Beyond any legal analysis to be carried out in the pages that follow, we affirm conclusively that effective environmental consciousness can only be accommodated through a correct knowledge of the person on environmental issues. Thus, the intervention of society in relevant environmental issues, is made effective, crystallizing participation in one of its various forms, through the right of access to such information. In that sense, the right of access to environmental information is a significant legal instrument invigorating the level of participation of the community and that tends to make more effective and energetic the environmental subjective right it refers to...
Description
Tesis inédita de la Universidad Complutense de Madrid, Facultad de Derecho, leída el 20/07/2016
Collections