Publication:
La señal de El Niño Modoki en la estratosfera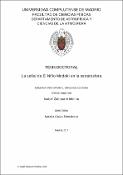 Files
Authors
Advisors (or tutors)
Editors
Publisher
Universidad Complutense de Madrid
Abstract
El fenómeno de El Niño Oscilación del Sur (ENSO) constituye la mayor fuente de variabilidad interanual de la troposfera subtropical. Sin embargo, desde 1979 la variabilidad en la cuenca del Pacífico tropical parece estar asociada no sólo al "ENSO Canónico" sino también con un nuevo tipo de ENSO conocido como ENSO Modoki. La fase cálida de este nuevo fenómeno (El Niño Modoki) se caracteriza por tener un núcleo de anomalías cálidas en la temperatura de la superficie del mar en el centro del océano Pacífico tropical, en vez de mostrarlo en el este del Pacífico ecuatorial como ocurre durante un Niño Canónico. Además de estas anomalías cálidas, aparecen dos centros de anomalías frías en el este y oeste del Pacífico tropical durante El Niño Modoki mientras que para El Niño Canónico estas anomalías negativas están localizadas exclusivamente en el Pacífico occidental. Esta tesis revela el impacto de El Niño Modoki en la estratosfera basándose en 4 simulaciones hechas con el Modelo de Circulación General WACCM 3.5 (Whole Atmosphere Community Climate Model), desde 1953 hasta 2004. En estas simulaciones las temperaturas de la superficie del mar, los gases de efecto invernadero y los compuestos halogenos están prescritos siguiendo las observaciones. Además, se analizan datos del reanálisis del Centro Europeo de Predicción a Medio Plazo ERA-40. Finalmente, la señal de El Niño Modoki se compara con la ya conocida señal estratosférica producida por El Niño Canónico. Los resultados de esta tesis revelan un calentamiento significativo en la estratosfera polar del Hemisferio Sur en el invierno boreal durante el Niño Modoki junto con un debilitamiento de los vientos del oeste en la baja estratosfera. Estas señales se propagan hacia la troposfera al inicio de la primavera boreal dando lugar a una fase negativa de la Oscilación Antártida. Por el contrario, en el Hemisferio Norte, la señal apenas es significativa en las latitudes medias y altas. Estos resultados difieren de la respuesta estratosférica característica de El Niño Canónico, que muestra una señal robusta en la estratosfera polar del Hemisferio Norte pero no en el Hemisferio Sur...
The El Niño Southern Oscillation (ENSO) phenomenon is the largest source of interannual variability in the subtropical stratosphere. However, since 1979 the variability in the tropical Pacific is linked not only to the conventional ENSO but also to a new kind of ENSO known as ENSO Modoki. The warm phase of this new phenomenon (El Niño Modoki) shows an anomalous heating in sea surface temperatures in the central Pacific accompanied by cold anomalies in the eastern and eastern parts of the Tropical Pacific Ocean. This is different from the sea surface pattern of the Canonical El Niño, which shows anomalous warming in the east Pacific and anomalous cooling only in the western part. This thesis reveals the impact of El Niño Modoki in the stratosphere by using 4 simulations performed with the General Circulation Model WACCM 3.5 (Whole Atmospheric Climate Model) and run from 1953 to 2004. In these simulations, sea surface temperatures and greenhouse gases and halogen concentrations are specified from observational values. In addition, observational data from the European Centre for Medium Weather Forecast reanalysis product, ERA-40, is analyzed. The El Niño Modoki signal is also compared to the well-known Canonical El Niño signal. The results show a significant warming in the polar stratosphere of the Southern Hemisphere during boreal winter together with a weakening of the zonal mean zonal winds in the lower polar stratosphere. These anomalies propagate downwards, reaching the troposphere in early boreal spring and leading to a negative phase of the Antarctic Oscillation. On the contrary, in the Northern Hemisphere the signal is barely significant in the polar stratosphere. These results are clearly different from those associated with the Canonical El Niño, which shows a robust response only in the polar stratosphere of the Northern Hemisphere...
Description
Tesis inédita de la Universidad Complutense de Madrid, Facultad de Ciencias Físicas, Departamento de Astrofísica y Ciencias de la Atmósfera, leída el 26/05/2016
Collections