Publication:
Características clínicas y manejo de los pacientes con anemia en el servicio de urgencias de un hospital general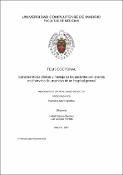 Files
Authors
Advisors (or tutors)
Editors
Publisher
Universidad Complutense de Madrid
Abstract
En la actualidad, la anemia se considera una enfermedad que, además de sus manifestaciones clínicas clásicas, posee un papel muy importante en el curso evolutivo de múltiples enfermedades crónicas tales como la Insuficiencia renal crónica, la Insuficiencia cardiaca congestiva, la enfermedad oncológica y la enfermedad inflamatoria intestinal, empeorando las tasas de morbimortalidad asociada a ellas. También en la población geriátrica, produce un empeoramiento de la situación funcional, mental e inmunológica siendo un factor importante en la aparición del fenotipo de fragilidad en ésta población. Por otro lado, el trabajo en los Servicios de Urgencias Hospitalarios pone al clínico en contacto continuado con multitud de pacientes que presentan estas condiciones patológicas, sin que existan hoy día estudios que informen sobre las características sociodemográficas y medicas de estos pacientes, los motivos de consulta habituales y el abordaje diagnóstico y terapéutico que se brinda a esta población en los Servicios de Urgencia...
Currently anemia is considered a disease that, in addition to its classic clinical manifestations, has a very important role in the clinical course of multiple chronic diseases such as chronic renal insufficiency, congestive heart failure, cancer disease and inflammatory bowel disease, worsening morbidity and mortality rates associated with them. In the geriatric population, anemia also get worse the functional, mental and immunological situation considered a major factor in the onset of frailty phenotype in this population. On the other hand, work in Hospital Emergencies Departments puts the clinician in daily contact with many patients having these pathological conditions and nowadays there are no studies reporting on epidemiology of these patients, the cause for medical consultation and diagnostic and therapeutic approach to this population is provided in the Emergencies...
Description
Tesis inédita de la Universidad Complutense de Madrid, Facultad de Medicina, leída el 25-06-2016
Collections