Publication:
Tratamiento quirúrgico de la incontinencia urinaria de esfuerzo femenina mediante la banda transvaginal TVT: eficacia a largo plazo y factores asociados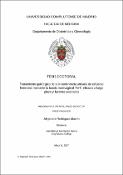 Files
Authors
Advisors (or tutors)
Editors
Publisher
Universidad Complutense de Madrid
Abstract
La incontinencia urinaria (IU) que definimos como la existencia de pérdidas involuntarias de orina, es un problema más frecuente en nuestra sociedad de lo que suele pensarse, afecta más a las mujeres que a los hombres y aunque dicha patología puede surgir en cualquier momento de la vida, su prevalencia se ve aumentada con la edad. Aunque se trata de una enfermedad que no afecta a la supervivencia del paciente; puede ocasionar una importante alteración física, psicológica y del bienestar social de los mismos. En la presente Tesis Doctoral nos proponemos estudiar la eficacia del tratamiento quirúrgico a largo plazo de la incontinencia urinaria de esfuerzo (IUE). Es sabido, como decimos, que la IUE tiene una alta prevalencia en la población general, que es mayor en la población femenina y que la misma aumenta con la edad. Desde fechas relativamente recientes y gracias, como veremos, al avance en el conocimiento fisiopatológico de la enfermedad, al desarrollo de distintas teorías sobre los mecanismos de continencia y a la investigación clínica, disponemos del tratamiento quirúrgico de la IUE conocido, genéricamente, como bandas libres de tensión. Por su amplia difusión y experiencia clínica, destaca la conocida como banda vaginal libre de tensión o TVT (tension-free vaginal tape). Si bien hoy día prácticamente todas las bandas suburetrales de material sintético empleadas para el tratamiento de la IUE son libres de tensión; en esta tesis haremos referencia, exclusivamente, a la banda TVT originalmente diseñada para su colocación retropúbica...
Urinary incontinence (UI), defined as the inability to urine in the bladder due to loss of voluntary control, is a common and frequent problem, which has a higher incidence in women and, although it can appear any time, it usually increases with age. Although IU doesńt affect the patient́s survival, it could significantly change physical and psychological aspects of the patient́s life and his or her quality of life. The purpose of this Doctoral Thesis is to study long-term efficiency of surgical treatment for stress urinary incontinence. It is well known that SUI has a high prevalence in the general population, and is still higher in women and increases over the years. Not too long ago and thanks to the development of several theories of continence mechanisms and clinical investigation, we have a well known surgical treatment for SUI, which consists of tension free vaginal tape (TVT). Although, at the present time practically all the suburethral synthetic tapes used in the treatment of SUI are tension free, in this thesis we will focus exclusively on the retropubic tension free vaginal tape. The main objective in carrying out this study is to learn the long-term efficiency of this surgical treatment for SUI in the female population. There exist numerous publications regarding the efficiency on short and medium term, complications, etc. But few make any reference to a follow up period as long as in this study, which assess long term efficiency with age, tape-induced adverse effects and risk factor of failure. Obviously, prevalence of SUI increases with age, a factor that could influence our findings, as well pathologies associated with old age...
Description
Tesis inédita de la Universidad Complutense de Madrid, Facultad de Medicina, Departamento de Obstetricia y Ginecología, leída el 01/02/2016
Collections