Publication:
Utilidad de la cuantifiación de las proteínas P53, HER2/NEU y EGFR en la caracterización del carcinoma de células transicionales de vejiga superficial y en su pronóstico a largo plazo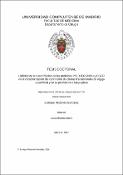 Files
Authors
Advisors (or tutors)
Editors
Publisher
Universidad Complutense de Madrid
Abstract
El 70-80% de los carcinomas de células transicionales (CCT) son superficiales (TVS) en el momento del diagnóstico inicial. La explicación al hecho conocido de qué algunos TVS que parecen presentar una histología desfavorable tengan un comportamiento inofensivo, mientras que otros tumores de una histología en principio más favorable muestren un comportamiento más agresivo, sigue siendo a día de hoy una incógnita. Este hecho hace que la búsqueda de nuevos criterios capaces de definir precozmente el potencial biológico de un tumor sea poco menos que una necesidad. Los trabajos realizados sobre las alteraciones de las proteínas p53, HER2/neu y EGFR en distintas neoplasias han aportado datos de gran importancia y han establecido nuevos factores pronóstico (FP) en esos tumores, justificando la realización de estudios que traten de relacionar estas alteraciones moleculares con las características del CCT y con la evolución clínica del mismo. HIPÓTESIS: La hipótesis conceptual de este trabajo supone que el nivel de la concentración de las proteínas EGFR, HER2/neu y p53 en el tejido tumoral es distinto en individuos sanos, en pacientes con tumores vesicales infiltrantes (TVI) y en pacientes con TVS, y que dentro del conjunto de estos últimos, su determinación es capaz de mejorar el rendimiento de los criterios clínicos, histológicos tradicionales, y de los análisis semicuantitativos a la hora de establecer un subgrupo de pacientes con alto riesgo de desarrollar recidiva, progresión tumoral, o fallecer por este tipo de neoplasia...
Between 70-80% of transitional cell carcinomas (TCC) are non-muscle-invasive (NMIBC) at the moment of initial diagnosis. The explanation of the well known fact that some NMIBC with an a priori unfavorable histology have a harmless behavior, while others NMIBC with a more favorable histology show more aggressive behavior, nowadays remains being unknown. This fact makes the search for new criteria capable of defining the biological potential of a tumor is nothing short of importance. Several studies about the changes of p53 protein, HER2/neu and EGFR in various malignancies have provided data of great importance and have set new prognostic factors (PF) in those tumors, justifying studies to establish relations between these molecular changes with clinical features of TCC and its clinical outcome. . HYPOTHESIS: The conceptual hypothesis assumes that p53, HER2/neu and EGFR levels in tumor tissue are different in healthy people, in NMIBC patients, and in MIBC patients, and subsequently, p53, HER2/neu and EGFR determinations will be able to improve the performance of clinical, histological traditional criteria, and semiquantitative analysis for establishing a subgroup of patients with NMIBC at high risk for recurrence, tumor progression, or death because this kind of neoplasm. For this purpose, the following operational hypotheses were developed: • The protein quantification techniques are effective in determining the protein concentrations in the analyzed tissue. • The increasing concentrations of p53, HER2/neu and EGFR in TCC express the level of the cell cycle alteration at the cells that produces them...
Description
Tesis inédita de la Universidad Complutense de Madrid, Facultad de Medicina, Departamento de Cirugía, leída el 28-01-2016
Collections