Publication:
Utilidad de la determinación periódica de la concentración intracelular de adenosina trifosfato (iATP) en los linfocitos T CD4⁺ estimulados con fitohemaglutinina para la predicción de complicaciones infecciosas en receptores de trasplante renal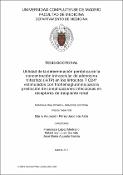 Files
Advisors (or tutors)
Editors
Publisher
Universidad Complutense de Madrid
Abstract
Infectious complications remain a leading cause of morbidity and mortality after solid organ transplantation (SOT). They depend on the 'net state of immunosuppression' that emerges from a complex interaction between multiple factors, including the type of immunosuppresion regimen used, its timing and dosage, the presence of underlying immune defects or viral infections, and the evolution of the graft function. Until now, clinicians who take care of SOT recipients have relied almost exclusively on the therapeutic drug monitoring of immunosuppressive drugs to explore the state of immunocompetence of their patients. However, this approach is limited because it does not take into account the influence of pharamcokinetic, pharmacodynamic and clinical variables. Currently, the optimal objective measurement of 'net state of immunosupression' is lacking. There is a need for the accurate quantification of this state to predict the development of infectious syndromes. The measurement of iATP levels in peripheral blood CD4+ T-lymphocytes following thir nonspecific stimulation with phytohemagglutinin (PHA), through the commercial assay Immuknow®, was approved by US Food and Drug Administration for detecting cell-mediated immunity in immunosuppressed patients...
Description
Tesis inédita de la Universidad Complutense de Madrid, Facultad de Medicina, Departamento de Medicina, leída el 14/01/2016
Collections