Publication:
Transporte de sedimentos y restauración geomorfológica en la zona minera del parque natural del Alto Tajo (Guadalajara, España)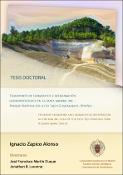 Files
Authors
Advisors (or tutors)
Editors
Publisher
Universidad Complutense de Madrid
Abstract
La minería genera importantes afecciones sobre el medio ambiente, sobre todo porque sus escorrentías suelen contener altas concentraciones de sedimentos. La contaminación asociada puede ser química o física, siendo los drenajes ácidos los más estudiados. Sin embargo, la contaminación física debida a escorrentías mineras ha recibido menos atención. Cuando la minería coexiste con otras fuentes de sedimentos, es preciso adquirir una amplia comprensión del conjunto de procesos de erosión y de transporte de sedimentos. Se supone que todos estos impactos de raíz hidrológica y erosivo-sedimentaria deberían evitarse con buenas prácticas de restauración minera. No obstante, son numerosos los trabajos que demuestran los fallos recurrentes del método más ampliamente usado: sistemas talud-berma, o terrazas. Y por ello ha surgido la restauración geomorfológica, basada en diseñar y construir geoformas naturales, estables y funcionales, organizadas en cuencas hidrográficas...
Mining is a human activity with high associated environmental impacts. Runoff from mining areas is commonly contaminated and has high sediment loads. Water quality impact associated with sediment discharged from mines has not received the consideration it deserves. When mining coexists with other natural sediment sources, a broad understanding of erosion and sediment transport processes is needed. Mining reclamation is supposed to decrease impacts of hydrologic and erosionsedimentation origin. Nonetheless, failures have been common in the usual reclamation approach used worldwide because the resultant landforms are not functionally stable in the long-term. Alternatively, a new approach called geomorphic reclamation has arisen as a possible solution. This method is based on designs that replicate "natural", stable and functional, landforms and landscapes, organized in catchments...
Description
Tesis inédita de la Universidad Complutense de Madrid, Facultad de Ciencias Geológicas, Departamento de Geodinámica, leída el 10-05-2017
Collections