Publication:
Classification of solvable real rigid Lie algebras with a nilradical of dimension n ≤ 6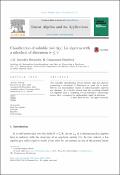 Advisors (or tutors)
Editors
Abstract
The complete classification of real solvable rigid Lie algebras possessing a nilradical of dimension at most six is given. Eleven new isomorphism classes of indecomposable algebras are obtained. It is further shown that the resulting solvable Lie algebras have a vanishing second Chevalley cohomology group, thus correspond to algebraically rigid Lie algebras.
Collections