Publication:
Extending the Li&Ma method to include PSF information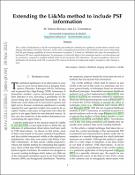 Advisors (or tutors)
Editors
Abstract
The so called Li&Ma formula is still the most frequently used method for estimating the significance of observations carried out by Imaging Atmospheric Cherenkov Telescopes. In this work a straightforward extension of the method for point sources that profits from the good imaging capabilities of current instruments is proposed. It is based on a likelihood ratio under the assumption of a well-known PSF and a smooth background. Its performance is tested with Monte Carlo simulations based on real observations and its sensitivity is compared to standard methods which do not incorporate PSF information. The gain of significance that can be attributed to the inclusion of the PSF is around 10% and can be boosted if a background model is assumed or a finer binning is used. (C) 2015 Elsevier B.V. All rights reserved.
Description
© 2016 Elsevier Science BV. This work was supported by the Spanish MINECO under contract FPA2010-22056-C06-06 and MECD under FPU Grant A-2013-12235. The analysis was performed using the open-source tools: ROOT Data Analysis Framework [18], Python and Matplotlib [19].
Citation
[1] T.-P. Li, Y.-Q. Ma. Analysis methods for results in gamma-ray astronomy. Astrophys. J., 272 (1983), pp. 317–324 View Record in Scopus | Full Text via CrossRef | Citing articles (1) [2] M. Kerr. Likelihood methods for the detection and characterization of gamma-ray pulsars with the fermi large area telescope, (Ph.D. thesis), University of Washington, Seattle (2011) Advisor: Thompson H. Burnett [3] P. Nolan, et al. Fermi Large Area Telescope Second Source Catalog. Astrophys. J. Suppl. Ser., 199:31 (2012), pp. 64–76 [4] S. Klepser. A generalized likelihood ratio test statistic for Cherenkov telescope data. Astropart. Phys., 36 (2011), pp. 64–76 [5] H. Dickinson, J. Conrad. Handling systematic uncertainties and combined source analyses for atmospheric Cherenkov telescopes. Astropart. Phys., 41 (2013), pp. 17–30 http://dx.doi.org/10.1016/j.astropartphys.2012.10.004 arXiv:1203.5643 Article | PDF (561 K) | View Record in Scopus | Citing articles (7) [6] G. Spengler. Significance in gamma ray astronomy with systematic errors. Astropart. Phys., 67 (2015), pp. 70–74 http://dx.doi.org/10.1016/j.astropartphys.2015.02.002 Article | PDF (796 K) | View Record in Scopus| Citing articles (1) [7] S. Klepser, J. Krause, J. Sitarek. Application of a generalized likelihood ratio test statistic to MAGIC data. AIP Conf. Proc., 1505 (2012), pp. 713–716 View Record in Scopus| Full Text via CrossRef| Citing articles (1) [8] J. Aleksić, et al. Optimized dark matter searches in deep observations of Segue 1 with MAGIC. J. Cosmol. Astropart. Phys., 02 (8) (2014), p. 32 [9] J. Aleksić. Optimized dark matter searches in deep observations of segue 1 with MAGIC (Ph.D. thesis), IFAE/Universitat Autònoma de Barcelona, Barcelona (2013) Advisors: M. Martínez, J. Rico, E. Fernández [10] J. Aleksić, et al. Performance of the MAGIC stereo system obtained with Crab Nebula data. Astropart. Phys., 35 (7) (2012), pp. 435–448 Article | PDF (1120 K) | View Record in Scopus | Citing articles (95) [11] V.P. Fomin, A.A. Stepanian, R.C. Lamb, D.A. Lewis, M. Punch, T.C. Weekes. New methods of atmospheric Cherenkov imaging for gamma-ray astronomy. I. The false source method. Astropart. Phys., 2 (2) (1994), pp. 137–150 Article | PDF (1103 K) | View Record in Scopus | Citing articles (114) [12] T. Bretz, et al. Comparison of on–off and wobble mode observations for MAGIC. Proceedings of the 29th International Cosmic Ray Conference, Pune (2005), pp. 101–106 View Record in Scopus| Citing articles (1) [13] S.S. Wilks. The large-sample distribution of the likelihood ratio for testing composite hypotheses. Ann. Math. Stat., 9 (1) (1938), pp. 60–62 View Record in Scopus | Citing articles (2) [14] D.L. Wallace. Bounds on normal approximations to Student's and the chi-square distributions. Ann. Math. Stat., 30 (4) (1959), pp. 1121–1130 View Record in Scopus | Citing articles (33) [15] D. Berge, S. Funk, J. Hinton. Background modelling in very-high-energy gamma-ray astronomy. Astron. Astrophys., 466 (2007) (2006), pp. 1219–1229 [16] M. Kirsch, et al. XMM-Newton (cross)-calibration. UV and Gamma-Ray Space Telescope Systems5488 (2004), pp. 103–114 View Record in Scopus | Full Text via CrossRef | Citing articles (26) [17] F. James, M. Roos. Minuit: a system for function minimization and analysis of the parameter errors and correlations. Comput. Phys. Commun., 10 (1975), pp. 343–367 http://dx.doi.org/10.1016/0010-4655(75)90039-9 Article | PDF (2272 K) | View Record in Scopus |Citing articles (1308) [18] R. Brun, F. Rademakers. ROOT – an object oriented data analysis framework. Nucl. Instrum. Methods Phys. Res. A, 389 (1997), pp. 81–86 Article| PDF (648 K)| View Record in Scopus | Citing articles (1001) [19] J.D. Hunter. Matplotlib: a 2d graphics environment. Comput. Sci. Eng., 9 (3) (2007), pp. 90–95 View Record in Scopus| Full Text via CrossRef | Citing articles (274)
Collections