Publication:
Las migraciones forzadas en el siglo XXI: retos y perspectivas.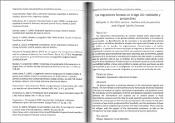 Advisors (or tutors)
Editors
Abstract
Las migraciones internacionales de carácter forzado están adquiriendo un protagonismo mayúsculo en las agendas políticas internacionales y los medios de comunicación. La diversificación de las amenazas a la seguridad internacional producidas en las últimas décadas ha situado a las migraciones forzadas en el foco de análisis de los estados, las organizaciones internacionales y el ámbito académico. La aparición de nuevas tipologías de migrantes y desplazados forzados recomienda actualizar los marcos jurídicos de protección internacional y regional de las personas que se encuentran bajo estas casuísticas que, de momento, quedan al amparo de la solidaridad e interpretación subjetiva de cada estado. La tendencia para los próximos años es que se continúe con la dinámica actual donde la gran mayoría de las migraciones forzadas surgen en contextos de guerra y/o de profunda inestabilidad política y tienen como destino los países vecinos, que tienen una alta vulnerabilidad y que se ven en la obligación, con la ayuda internacional, de asumir la gestión de grandes campos de refugiados y numerosas de solicitudes de asilo.
The forced migration is achieving relevance in the international agenda and medias. The new threats to international security have placed the forced migration in the focus of analysis by states, international organization, and academic world. The emergence of new typologies of forced and displaced migration recommends updating the international and regional law to protect people in these circumstances, because currently, they are under voluntary protection of states. The trend for the coming years is that most forced migrations will continue to take place in contexts of war and/or profound political instability, and the destination of these populations will be neighbouring countries with high vulnerability. These countries are obliged, with the support of the international assistance, to take on the management of large refugee camps and thousands of asylum applications.
Collections