Publication:
Dictamen Jurídico. Litigios de Derecho de Familia con elemento extranjero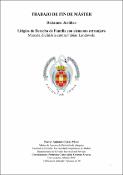 Authors
Advisors (or tutors)
Editors
Abstract
El presente documento constituyó mi Trabajo Final del Máster de Acceso a la Profesión de Abogado de la Facultad de Derecho de la Universidad Complutensede Madrid.
This document constitutes my final work of the Master of Access to the Profession of Lawyer in Law Faculty of the Complutense University of Madrid.