Publication:
Work-in-progress: High-performance systolic hardware accelerator for RBLWE-based post-quantum cryptography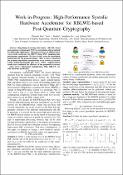 Advisors (or tutors)
Editors
Publisher
Institute of Electrical and Electronics Engineers.
Abstract
Ring-Binary-Learning-with-Errors (RBLWE)-based post-quantum cryptography (PQC) is a promising scheme suitable for lightweight applications. This paper presents an efficient hardware systolic accelerator for RBLWE-based PQC, targeting highperformance applications. We have briefly given the algorithmic background for the proposed design. Then, we have transferred the proposed algorithmic operation into a new systolic accelerator. Lastly, field-programmable gate array (FPGA) implementation results have confirmed the efficiency of the proposed accelerator.
Description
©2022. International Conference On Hardware/Software Codesign And System Synthesis (CODES+ISSS) (2022. Shanghay) ISSN: 2832-6466; ISSN e-:2832-6474 J. Xie was supported by NSF SaTC-2020625 and in part by NIST-60NANB20D203. J.L. Imaña was supported by PID2021-123041OB-I00 funded by MCIN/AEI/10.13039/501100011033 and by "ERDF A way of making Europe", and by the CM under grant S2018/TCS-4423.
Collections