Publication:
La planta viva en la obra de arte contemporánea: bioarte botánico en la ciudad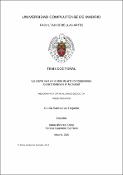 Files
Authors
Advisors (or tutors)
Editors
Publisher
Universidad Complutense de Madrid
Abstract
La presente tesis doctoral, La planta viva en la obra de arte. Bioarte botánico en la ciudad, se centra en el estudio de elementos botánicos vivos como recurso estético en la obra de arte más reciente y en el entorno delimitado de las ciudades. En concreto, nos hemos centrado en mostrar tanto a los artistas como las obras realizadas durante las últimas décadas, desde los años ochenta hasta la actualidad. La planta viva y el entorno de la ciudad son dos elementos modeladores que dotan de características peculiares a todas las obras incluidas en este estudio. Hemos realizado un recorrido por las distintas manifestaciones estético-botánicas encontradas a lo largo de distintas fronteras internacionales. Cada lugar donde se producen estas expresiones artísticas botánicas consigue ejercer una clara influencia tanto por el entorno como por su historia. En ciertos casos crea unas características especiales por su ubicación geográfica y urbana. Subrayamos, no obstante, que las muestras son universales y están interrelacionadas como consecuencia de un mundo globalizado, hoy más que nunca, aunque podamos enumerar influencias orientales, minimalistas, tecnológicas, tecnocientíficas, robóticas y transgénicas. Las referencias de arte botánico vivo constituyen el eje conductor de la selección mostrada y son requisito imprescindible de todas las obras de arte incluidas sin excepción. Han sido numerosas las muestras de bioarte encontradas, respecto a las que hemos analizado los espacios artístico-científicos que han ayudado a su vertebración y a clarificar la dirección estética que habían adoptado. Destacamos también las influencias de arte y ecología, relacionados en concreto al entorno urbano...
The present doctoral thesis, The Living Plant in the Contemporary Art Work . Botanical Bioart in the City, focuses on the study of alive botanical elements as an aesthetic appeal in the latest artwork and in the delimited environment of cities. In particular, we have focused on showing both the artists and the works made in recent decades, from the 1980s to the present day the living plant in the enviroment of the city, are two shaper elements that provide distinctive features to all the works included in this study. We made a tour trough the different aesthetic-botanical manifestations were found along different international borders. Every place where these botanical artistic expressions occur manages to make a clear influence both because of the environment and its history. In some cases it creates special characteristics due to its geographic and urban location. We highlight, however, that these samples are universal and are interrelated as a result of a globalized world, today more than ever, although we can enumerate oriental, minimalist, technological, techno-scientific, robotic and transgenic influences. The alive botanical art references are the conducting axis of the displayed selection and essential requirement of all the included works of art without exception. The samples of bioart found are numerous, to which we have analyzed the artistic- scientific spaces that have helped its structuring and clarifying the aesthetic direction that they had taken. We also emphasize the influences of art and ecology related in particular to the urban environment...
Description
Tesis inédita de la Universidad Complutense de Madrid, Facultad de Bellas Artes, leída el 18-12-2015
Collections