Publication:
Puesta en valor turístico del patrimonio cultural de la Guaira (Venezuela)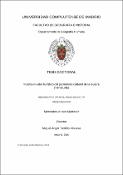 Files
Authors
Advisors (or tutors)
Editors
Publisher
Universidad Complutense de Madrid
Abstract
El trabajo de tesis doctoral que se presenta tiene como objetivo central el diseño de una propuesta de actuación integral de La Guaira y su centro histórico a partir de la identificación de sus atributos, amenazas, necesidades y oportunidades, con el propósito de poner en valor turístico su patrimonio cultural. Para ello, se han considerado tres ámbitos territoriales: el Estado Vargas, La Guaira y su centro histórico. El trabajo que se presenta forma parte de una exploración más amplia dentro de la línea de investigación "Planificación del espacio turístico y su vinculación con el patrimonio cultural", desarrollada a lo largo de casi veinte años. Desde el punto de vista metodológico la investigación comprende tres fases. La primera, abarca la formulación y el diseño de la investigación. La segunda, considera la caracterización del territorio objeto de estudio. La tercera, plantea una aproximación a un modelo de actuación local para la puesta en valor turístico. Para ello, se ha realizado una revisión exhaustiva de fuentes de información de diversa índole, que comprende libros especializados en los temas tratados, revistas científicas, periódicos, boletines, informes técnicos, publicaciones oficiales, legislación nacional e internacional, tesis y proyectos de investigación, entre otras. En particular, se han consultado documentos, proyectos, tesis doctorales y demás publicaciones del Grupo de Investigación "Turismo, Patrimonio y Desarrollo", que dirige el profesor Miguel Ángel Troitiño Vinuesa en el Departamento de Geografía Humana de la Universidad Complutense de Madrid. La consulta de fuentes hemerográficas, a través de la revisión de la prensa nacional y regional ha sido fundamental para estudiar cómo han evolucionado los ámbitos considerados en la investigación. El trabajo de campo ha sido fundamental como método para la observación directa y participativa del fenómeno objeto de estudio y la recogida de información primaria, a través de técnicas de recopilación de datos: inventarios, encuestas, entrevistas no estructuradas y grupos focales. La pluralidad de fuentes utilizadas ha supuesto el uso de la triangulación como técnica de investigación que busca contrastar los resultados que se han obtenido por distintos medios consultados...
The doctoral thesis presented has the objective to design a proposal for comprehensive performance of La Guaira and its historic center for identifying their attributes, threats, needs and opportunities, in order to put in tourist value their cultural heritage. To do this, we have considered three territorial areas: the state of Vargas, La Guaira and its historic center. The work presented is part of a broader explanation within the research "Planning of tourist space and its relationship with the cultural heritage", developed over nearly twenty years. From the methodological point of view the research comprises three phases. The first, covering the formulation and research design. The second considers the characterization of the territory under study. The third presents an approach to a model local action for the implementation touristic value. To do this, there has been a comprehensive review of information sources of various kinds, comprising specialized books on the topics, journals, newspapers, newsletters, technical reports, publications, national and international legislation, theses and research projects, among others. In particular, they have consulted documents, projects, dissertations and other publications of the Research Group "Tourism, Heritage and Development", directed by Professor Miguel Angel Vinuesa Troitiño in the Department of Human Geography at the Complutense University of Madrid. The newspaper sources examination, through the revision of national and regional press has been critical to study, looking for how they have evolved areas covered by the investigation. Field work has been essential as a means of direct and participatory observation of the phenomenon under study and primary data collection, through data collection techniques: inventories, surveys, unstructured interviews and focus groups. The plurality of sources used has involved the use of triangulation as a research technique that seeks to compare the results that have been obtained by various media consulted...
Description
Tesis inédita de la Universidad Complutense de Madrid, Facultad de Geografía e Historia, Departamento de Geografía Humana, leída el 14-01-2016
Collections