Publication:
Campo intelectual y campo periodístico en la España contemporánea: un análisis empírico de sus relaciones en el espacio de la opinión de El País, (1986-1988)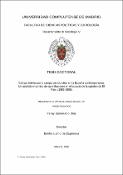 Files
Authors
Advisors (or tutors)
Editors
Publisher
Universidad Complutense de Madrid
Abstract
Al menos desde el modelo fundador que constituyó la intervención de Émile Zola durante el Affaire Dreyfus, las relaciones entre los intelectuales y los medios de gran difusión han sido objeto de múltiples disputas y de acalorados debates. El tema general de esta tesis doctoral lo constituyen, precisamente, estas relaciones. Sin embargo, el objetivo específico de esta investigación no es acercarse a ellas de un modo genérico, sino a través de un estudio de caso que nos hemos propuesto. A partir de una aproximación de carácter inseparablemente histórico y sociológico, derivada en gran medida de los trabajos que en nuestro país han constituido un corpus de sociología de los intelectuales de orientación empírica, hemos propuesto un estudio de estas relaciones para el caso de España en los años que siguen inmediatamente a la Transición, como medio de aprehender algunas de las líneas generales que describen estas relaciones durante el periodo contemporáneo. En particular, hemos centrado el análisis de este periodo en una de las instancias más significativas en el seno de estas relaciones: el diario El País. Tal empresa periodística acaparó una gran parte de las relaciones entre intelectuales y medios de gran difusión en los años 80, años en los que se convirtió en un diario de «referencia dominante» en el espacio periodístico español en general, como también en relación a la vida intelectual del momento...
At least since the founding model of the intervention of Emile Zola in the Dreyfus Affaire, the relationships between the intellectuals and mass media have been object of multiple disputes and heated debates. The main theme of this doctoral dissertation are, precisely, those relationships. However, the specific objective of the present investigation is not a general approach but a study of a specific case. It is an approximation where it becomes impossible to separate History and Sociology, an approximation derived mainly from the analysis which have been done in our country, which have constituted a corpus to study the sociology of intellectuals with an empirical orientation. We propose an analysis of the relationships between intellectuals and mass media in Spain during the immediate years after the transition, as ways to grasp some of the aspects which describe the same relationships in the contemporary period. Particularly, the analysis has been concentrated in one of the most significant instances in the core of the relationship during the chosen period: the journal El País. That journalistic company, took up a great number of these relationships between intellectuals and mass media during the eighties. Those were the years when the newspaper became a "dominant reference" inside the journalistic sphere in Spain as well as in relation with the intellectual life of the moment...
Description
Tesis inédita de la Universidad Complutense de Madrid, Facultad de Ciencias Políticas y Sociología, Departamento de Sociología V, leída el 11-12-2015
Collections