Publication:
La participación ciudadana y la democracia interna de los partidos políticos como proceso de legitimación democrática. El caso colombiano, 1990-2012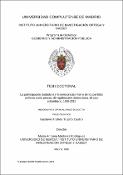 Files
Authors
Advisors (or tutors)
Editors
Publisher
Universidad Complutense de Madrid
Abstract
El triunfo de la democracia como el modelo político que mejor define los principios de libertad e igualdad política de los ciudadanos, exige que sus intereses sean efectivamente representados, por tal razón actualmente hay un predominio de la democracia representativa como el sistema que permite delegar el poder del demos en candidatos que personifican la voluntad y los deseos de los ciudadanos, lo que a su vez ha consolidado a los partidos políticos como las principales organizaciones que reúnen a los candidatos y quienes tienen dentro de sus funciones actuar como representantes de los ciudadanos. En este escenario la democracia representativa y los partidos políticos están íntimamente ligados, ya que tanto la una como el otro permiten el adecuado funcionamiento mutuo y su razón de ser. Sin embargo, y pese a existir implícitamente un compromiso entre los partidos políticos y los ciudadanos, entre los elegidos y los electores, por cumplir la voluntad delegada de los ciudadanos una vez accedan al poder, existen puntos en los cuales los representantes no poseen algún compromiso con sus electores, en un entorno que carece de mecanismos de control, quedando en libertad de actuar según sus propias ideas, de manera independiente, y que por su condición humana les limita la objetividad al momento de decidir acorde a la delegación recibida y que puede estar en contravía del querer de los ciudadanos. Por lo anterior, existe una baja credibilidad de la ciudadanía tanto en el sistema político como en los partidos políticos y el Congreso, hecho que también sucede en el caso colombiano donde si bien hay una democracia representativa ininterrumpida desde el momento mismo de la conformación del Estado, existe una baja percepción de los partidos políticos y del Congreso que afecta el sistema político. En tal sentido el objetivo de esta investigación es establecer si a través de una mejora en la democracia interna de los partidos políticos y en los mecanismos de participación ciudadana se relegitima la percepción del sistema democrático representativo en Colombia debido a la existencia de una relación entre la democracia y la necesidad de los partidos políticos para su desarrollo...
The democracy's triumph as the political model that defines best the principles of freedom and political citizen equality, requires that citizens interests are effectively represented, for this reason actually there is a preponderance of representative democracy as the system that allows delegating the demo's power in candidates who exemplify the will and wishes of the citizens, this has strengthened the political parties as the main organizations that bring together candidates, also those have inside their functions act as representatives of the citizens. In this scenario representative democracy and political parties are closely linked, as they both allow mutual operation and its reason for being. However, despite implicitly be a compromise between political parties and citizens, between the elected and the electors, delegated by the will of citizens once elected come to power, there are points at which the representatives do not have commitment with their constituents, in an environment without control mechanisms, being free to act on their own ideas, independently, where their human condition limits their objectivity to decide according to the delegation received and it can be counter to the will of the citizens. Therefore, there is a low credibility of citizens in both the political system and political parties and Congress, this also happens in Colombia's case, where there is a representative democracy uninterruptedly since the formation of the State but there is a low perception of political parties and Congress that affects the political system. In this regard, the objective of this research is to establish if improving internal democracy of political parties and citizeńs participation mechanisms the perception of the Colombia's representative democratic system will also improve, this as result of a relationship between democracy and the need for political party's existence to his development...
Description
Tesis inédita de la Universidad Complutense de Madrid, Facultad de Ciencias Políticas y Sociología, leída el 03-02-2016
Collections