Publication:
Modelización y simulación de la configuración de un campo solar para centrales termosolares de torre: influencia de la óptica del concentrador sobre la generación de energía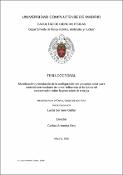 Files
Authors
Advisors (or tutors)
Editors
Publisher
Universidad Complutense de Madrid
Abstract
Las energías renovables como alternativa a las plantas de producción eléctrica tradicionales que utilizan combustibles fósiles, suponen hoy en día una solución a los problemas de dependencia energética, y emisiones de CO2 no deseadas a la atmósfera, habiéndose producido un fuerte desarrollo en la tecnología especialmente eólica y solar en la última década. Empresas como Abengoa, Acciona, Aries, ACWA, Sener, Brightsource entre otras, están apostando fuerte por la energía solar, y es concretamente dentro de la compañía Abengoa, dónde surge la propuesta de esta tesis doctoral. El estudio aquí realizado surge como resultado del trabajo desempeñado dentro del Departamento de Investigación y Desarrollo de Abengoa Solar New Technologies, y posteriormente dentro de Abengoa Research, empresa creada para concentrar el I+D de toda la compañía. El objetivo final consiste en optimizar las plantas solares termoeléctricas de torre, centrándonos en el campo de heliostatos (espejos) que lo componen y en su influencia sobre la producción eléctrica de la planta pudiendo así facilitar unas pautas de optimización del campo según el tipo de heliostato utilizado, y plantear una alternativa a la configuración de campos de heliostatos ya existente. Para ello, se estudian dos posibles escenarios, en el que se contemplan dos tipos de facetas diferentes, siendo las facetas las diferentes unidades o espejos por los que está constituido el heliostato. Un primer escenario que consiste en un campo de heliostatos con facetas esféricas, y un segundo escenario que consiste en heliostatos con facetas planas, estando dichas facetas en ambos casos canteadas esféricamente, es decir, orientadas su normales adecuadamente para que conformen una superficie "imaginaria", lo más cercana posible a la esférica...
The technological advances of recent years in various fields of renewable energies most notably within the areas of wind and solar power have directly led to significant improvements in the reliability and efficiencies associated with these forms of energy generation. By virtue of these facts many forms of renewable energy generation now offer the potential to be viable alternatives to traditional methods of energy generation. The benefits of the increased adoption and implementation of renewable energy technologies will directly reduce current reliance on fossil fuels and by implication reduce the amount of CO2 emissions. Many commercial companies; including, but not exclusively, Abengoa, Acciona, ACWA, Aries, Brightsource and Sener believe in the advantages and benefits associated with sustainable energy generation. And it is with this ethos and commitment to improvement in mind that Abengoa Solar New Technologies proposed and supported the constituent research conducted for the purposes of the PhD thesis. The primary aim of the research program was to investigate optimization methods at solar tower thermoelectric plants; specifically the study focused on developing a greater understanding of a heliostat array and its direct influence on the efficiencies associated with power generation...
Description
Tesis inédita de la Universidad Complutense de Madrid, Facultad de Ciencias Físicas, Departamento de Física Atómica, Molecular y Nuclear, leída el 03/02/2016
Collections