Publication:
An Auto-Tune based plugin for digital audio workstations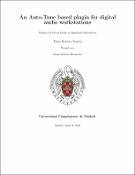 Authors
Advisors (or tutors)
Editors
Abstract
Today, music production is at anyone's reach. The DAWs (Digital Audio Workstations) include in one single tool most, if not all, of the elements needed in a professional studio. Thanks to their intuitive use, the wide variety of tools included and their affordable prices for regular users, a DAW can be found in an amateur's musician computer and in a professional producer's computer. Another key to the success of DAWs is that if they do not include an utility, it can be added through external programs called plugins. These programs extend the functionality of DAWs and can be included into projects in an easy and straightforward manner. A very popular group of plugins are the pitch correction tools, like AutoTune. Essentially, they detect the mistakes in the pitch of a singer's voice and then correct them. With time, the characteristic sound that these tools can generate has come to be considered as an stylistic effect in on its own and many artists use it as part of their own personal touch. This project aims to recreate how pitch correction tools work in a plugin format. Pitch correction has two main steps: pitch detection (finding the current pitch) and pitch shifting (modifying the audio to fix the current pitch). Both of these steps are complex and computationally expensive, specially pitch detection. Therefore, implementing a pitch correction effect as a plugin poses many challenges and would allow the end result to be used in any DAW.
Hoy en día, la producción musical está al alcance de cualquiera. Los DAWs (Digital Audio Workstations) son programas que permiten tener todos los elementos necesarios en un estudio de grabación integrados en un entorno de producción en una única herramienta. Gracias a su uso fácil e intutitivo, a la increible variedad de herramientas que incluye y al coste económico asumible por el usuario doméstico puede encontrarse un DAW tanto en el ordenador de un músico amateur como en el de un productor profesional. Otra de las claves del éxito de los DAWs es que si no incluyen una utilidad, puede incluirse mediante el uso de programas externos llamados plugins. Estos programas amplian la funcionalidad de las DAWs y pueden inclurise en proyectos de manera fácil y rápida. Un grupo muy popular de plugins son las herramientas de corrección de afinación como AutoTune. En su uso más directo, permiten detectar y corregir errores de afinación en las notas producidas por los cantantes. Con el tiempo, el sonido característico que pueden generar estas herramientas ha llegado a considerarse como un efecto estilístico por sí mismo y muchos artistas lo utilizan como parte de su sello personal. Este proyecto pretende recrear el funcionamiento de estas herramientas de corrección de afinación como un plugin. La corrección de afinación tiene dos pasos principales: detectar la afinación actual y corregir el audio para arreglar la afinación. Ambos pasos son complejos y tienen un alto coste computacional, especialmente la detección de pitch. Por lo tanto, implementar un efecto de corrección de afinación como un plugin presenta muchos retos y permitiría que el resultado final se uitlice en cualquier DAW.
Description
Trabajo de Fin de Grado en Ingeniería Informática, Facultad de Informática UCM, Departamento de Sistemas Informáticos y Computación, Curso 2021/2022.