Publication:
Desarrollo de una aplicación de visitas para el Real Jardín Botánico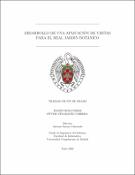 Advisors (or tutors)
Editors
Abstract
Este trabajo tiene como objetivo proporcionar a los visitantes del Real Jardín Botánico de Madrid una herramienta donde consultar sus últimas novedades e información relativa a la gran colección de plantas que contiene, y de esta manera ofrecer una mejor experiencia durante el recorrido dentro de las instalaciones. En particular, los usuarios disponen de una forma sencilla de acceso a una lista de plantas, puntos de interés e itinerarios con información característica, junto con la opción de visualizar su posición en el mapa o iniciar una ruta guiada. Además, el usuario tiene la posibilidad de buscar cuál es la planta que tiene delante mediante la realización de una fotografía. El sistema desarrollado está formado por una aplicación para dispositivos Android que hace uso de la información añadida en la base de datos y una aplicación web que funciona como gestor de contenidos.
This work aims to provide visitors to the Royal Botanical Garden of Madrid with a tool where they can consult the latest news and information related to the large collection of plants it contains, and thus offer a better experience during the tour inside the facilities. In particular, users have an easy way to access a list of plants, points of interest and itineraries with characteristic information, along with the option to visualize their position on the map or start a guided route. In addition, the user has the possibility to search for the plant in front of him by taking a photograph. The system developed consists of an application for Android devices that makes use of the information added to the database and a web application that functions as a content manager.
Description
Trabajo de Fin de Grado en Ingenieria del Software, Facultad de Informática UCM, Departamento de Sistemas Informáticos y Computación, Curso 2021/2022.