Publication:
Procesamiento de imágenes con redes neuronales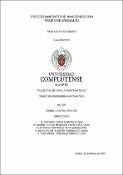 Authors
Editors
Abstract
Este trabajo reúne las pautas necesarias para entender los métodos y algoritmos matemáticos que las redes neuronales emplean para procesar imágenes. En primer lugar, se introduce el concepto de neurona artificial, así como un ejemplo para ilustrar sus partes y su funcionamiento a nivel práctico para el tratamiento de imágenes. En la segunda parte del trabajo se introduce el concepto de red neuronal artificial, así como la importancia de las funciones de activación y el problema de clasificación. También se detalla matemáticamente el proceso de aprendizaje de las redes neuronales artificiales, introduciendo los algoritmos de Backpropagation y gradiente descendente. En la tercera parte del trabajo, se introducen las redes neuronales convolucionales, debido a su importancia para el procesamiento de imágenes con redes neuronales. Se detalla su arquitectura y se explica la función de los diferentes tipos de capas que las componen. En la parte final, se aplica la teoría matemática de las redes neuronales en el procesamiento de imágenes con tres casos prácticos utilizando MATLAB.
This project gathers the necessary guidelines to understand the mathematical methods and algorithms that neural networks use to process images. Firstly, the concept of artificial neuron is introduced, along with an example to illustrate its parts and practical level operation for image processing. In the second part of the project, the concept of artificial neural network is introduced, as well as the importance of activation functions and the classification problem. The mathematical process of learning in artificial neural networks is also detailed, introducing the Backpropagation and gradient descent algorithms. In the third part of the project, Convolutional Neural Networks are introduced due to their importance in image processing with neural networks. Their architecture is detailed and the function of the different types of layers that make them up is explained. In the final part, the mathematical theory of neural networks is applied to image processing with three practical cases using MATLAB.