Publication:
Avances y noticias de la etapa incunable y post incunable de la imprenta toledana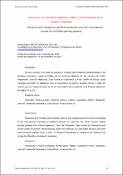 Advisors (or tutors)
Editors
Publisher
Biblioteca Histórica de la Universidad Complutense de Madrid
Abstract
Se da a conocer una serie de avances y noticias sobre impresos pertenecientes a los periodos incunable y post-incunables de la imprenta toledana de las prensas de Pedro Hagenbach, Juan de Villaquirán, Juan Varela de Salamanca y Arnao Guillén de Brocar. Estos hallazgos proceden de bibliotecas que se encuentran en México, Estados Unidos e Italia. Se reúnen aquí con objeto de poner al día el conocimiento de la imprenta en la Ciudad Imperial en los siglos XV y XVI.
Advances and findings have recently come to light regarding historical forms belonging to the incunabulum and post-incunabulum periods. In particular, the study involves Toledo printing presses from Pedro Hagenbach, Juan de Villaquirán, Juan Varela de Salamanca and Arnao Guillén de Brocar. These findings come from Mexican, US and Italian libraries and have been grouped together here in order to reassess knowledge of printing in the Imperial City during the fifteenth and sixteenth centuries.
Citation
BURGER, Konrad. Die Drucker und Verleger in Spanien und Portugal von 1501-1536: Mit Chronologischer Folge ihrer Druck-und Verlagswerke... Leipzig. Verlag von Karl W. Hiersemann. 1913. COLÓN, Hernando. Regestrum librorum don Ferdinandi Colon. Reprod. facsimilar en Catalogue of the Library of Ferndinand Columbus: Reproduced in facsimile from the Unique Manuscript in the Columbine Library of Sevilla by Acher M. Huntington. New York. 1905. [Reprinted with the permission of The Hispanic Society of America: New York. Krauss Reprint. 1967]. GALLARDO, Bartolomé José. Ensayo de una biblioteca española de libros raros y curiosos, formada con los apuntamientos de B. J. Gallardo, coordinados y aumentados por M. R. ZARCO DEL VALLE y J. SANCHO RAYÓN. Madrid. Imp. y Esteriotipia de M. Rivadeneyra. 1863-1889. 4 vol. GOFF, Frederick R. Incunabula in American Libraries. A third Census of Fifteeenth-Century Books recorded in North American Collection... Reimp. New York. Kraus Reprint. 1973. ICCU. Istituto Centrale per il Catalogo Unico delle Biblioteche Italiane e per le informazioni bibliografiche. Servizio Bibliotecario Nazionale (SBN). www.iccu.sbn.it. ISTC. Incunabula Short-Title Catalogue. Database of fiftheenth-century which has been in development at the British Library since 1980. www.bl.uk/catalogues/istc/index.html MARTÍN ABAD, Julián. Post-incunables ibéricos. Madrid. Ollero & Ramos. 2001. MÉNDEZ APARICIO, Julia. Catálogo de incunables de la Biblioteca Pública de Toledo (Colección Borbón-Lorenzana). Madrid. Servicio de Publicaciones del Ministerio de Cultura Dirección General del Libro y Bibliotecas. 1991. NORTON, Frederick John. A descriptive catalogue of printing in Spain and Portugal 1501-1520. Cambridge. Cambridge University Press. 1978. "Nuevo" Diccionario Bibliográfico de Pliegos Sueltos Poéticos (Siglo XVI) de Antonio Rodríguez Moñino. Ed. corregida y actualizada por Arthur L.-F. ASKINS y Víctor INFANTES. Madrid. Ed. Castalia-Editora Regional de Extremadura. 1997. PENNEY, Clara Louise. Printed Books (1468-1700) in The Hispanic Society of America. New York. The Hispanic Society of America. 1965. PÉREZ PASTOR, Cristóbal. La imprenta en Toledo. Descripción bibliográfica de las obras impresas en la imperial ciudad desde 1483 hasta nuestros días. Madrid. Imp. de Manuel Tello. 1887. (Existe ed. facsímil: Toledo. Instituto Provincial de Investigaciones y Estudios Toledanos. 1984). Pliegos Poéticos Españoles de la British Library, Londres (impresos antes de 1601). Edición en facsímile precedida de una presentación y notas bibliográficas por Arthur LeeFrancis ASKINS. Madrid. Joyas Bibliográficas. 1989. 3 vol. RODRÍGUEZ MOÑINO, Antonio. Diccionario Bibliográfico de Pliegos Sueltos Poéticos (Siglo XVI). Madrid. Ed. Castalia. 1570. SEGURA MARTÍNEZ, Salvia Carmen. Fondo Conventual de la Biblioteca Nacional de Antropología e Historia. Catálogo de la Biblioteca del Convento Grande de San Francisco de la Ciudad de México II. México, D.F. Insituto Nacional de Antropología e Historia-Universidad Nacional Autónoma de México. 1991. (Colección Fuentes). SOAVE, Valeriano. Il fondo antico spagnolo della Biblioteca Estense di Modena. Kassel. Edition Reichenberger. 1985.
Collections