Publication:
Geometrical evolution of volcanoes: a theoretical approach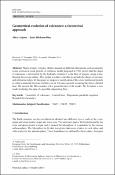 Files
Advisors (or tutors)
Editors
Abstract
Shape ofmany volcanic edifices depend on different phenomena, such as parasitic cones, erosion or coral growth. A nonlinear model proposed in 1981 proves that the shape of volcanoes is determined by the hydraulic resistance to the flow of magma, along a line, through the porous edifice. This model was later extended to include the shape of aseismic and submarine ridges. In this paperwe propose a modification of the above mentionedmodels in order to simulate the more realistic case of volcanoes growth assuming they have a limited base. We present the 3D extension and a generalization of the model. We formulate a new model including the case of a possible outpointing flow.
Citation
Alt, H.W., Luckhaus, S.: Quasilinear elliptic-parabolic differential equations. Math. Z. 183, 311–341 (1983) Angevine, C.L., Turcotte, D.L., Ockendon, J.R.: Geometrical form of aseismic ridges, volcanoes, and seamounts. J. Geophys. Res. Solid Earth 89(B13), 11287–11292 (1984) Antonsev, S., Díaz, J.I., Shmarev, S.: Energy Methods for Free Boundary Problems. Birkäuser, Boston(2002) Arjona, A., Díaz, J.I., Fernández, J.: Geometric form of volcanoes with a limited base, CD-Actas de XXI CEDYA (XI Congreso de Matemáticas Aplicada, Universidad de Castilla la Mancha. Ciudad Real (2009,ISBN 978-84-692-6473-7) Benilan, Ph, Díaz, J.I.: Pointwise gradient estimates of solutions of onedimensional nonlinear parabolic problems. J. Evol. Equ. 3, 557–602 (2004) Benilan, Ph., Wittbold, P.: On mild and weak solutions of elliptic-parabolic problems. Adv. Differ. Equ. 1, 919–1122 (1996) Boccardo, L., Giacheti, D., Díaz, J.I., Murat, F.: Existence and regularity of renormalized solutions for some elliptic problems involving derivatives of nonlinear termes. J. Differ. Equ. 106, 215–237 (1993) Bonafede, M., Cenni, A.: A porous flow model of magma migration within Mt. Etna: the influence of extended sources and permeability anisotrophy. J. Volcanol. Geotherm. Res.81, 51–68 (1998) Bouhsis, F.: Etude d'un problème parabolique par les semi-groupes non linéaires. Publications Mathematiques de Besançon-Analyse non linéaire 15, 133–141 (1995/97) Brézis, H.: Analyses Fonctionelle: Théorie et Applications. Alianza, Marson-Pons, Madrid (1984) Carrillo, J.: On the uniqueness of the solution of the evolution dam problem. Nonlinear Anal. 22, 573–607(1994) Carrillo, J.: Entropy solutions for nonlinear degenerate problems. Arch. Rational Mech. Anal. 147, 269–361 (1999) Carrillo, J., Wittbold, P.: Uniqueness of renormalized solutions of degenerate elliptic parabolic problems.J. Differ. Equ. 156, 93–121 (1999) Díaz, J.I., Kersner, R.: On a nonlinear degenerate parabolic equation in filtration or evaporation through a porous medium. J. Differ. Equ. 69(3), 368–403 (1987) Díaz, J.I., Kersner, R.: On the behaviour and cases of nonexistence of the free boundary in a semibounded porous medium. J. Math. Anal. Appl. 132(1), 281–289 (1988) Díaz, J.I., Shmarev, S.I.: On the behaviour of the interface in nonlinear processes with convection dominating diffusion via Lagrangian coordinates. Adv. Math. Sci. Appl. 1(1), 19–45 (1992) Díaz, J.I.: Qualitative study of nonlinear parabolic equations: an introduction. Extracta Mathematicae 16(2), 303–341 (2001) Díaz, J.I.: Estimates on the location of the free boundary for the obstacle and Stefan problems by means of some energy methods. Georgian Math. J. 15(3), 455–484 (2008) Evans, L.C.: Nonlinear evolution equations in an arbitrary Banach space. Israel J. Math. 26, 1–42 (1977) Gilding, B.H.: Improved theory for a nonlinear degenerate parabolic equation. Annali della Scuola Normale Superiore di Pisa Classe di Scienze Sér. 4 16(2), 165–224 (1989) Gurtin, M.E.: An introduction to Continuum Mechanics. Academic Press Inc., London (1981) Kacur, J.: Solution of nonlinear and degenerate convection-diffusion problems. Nonlinear Anal. 47, 123–134 (2001) Klashnikov, A.S.: Some problems of qualitative theory of nonlinear degenerate second-order parabolic equations. Uspeekhi Mat. Nauk. 42, 135–176 (1987) Lacey, A., Ockendon, J.R., Turcotte, D.L.: On the geometrical form of volcanoes. Earth Planet. Sci. Lett.54, 139–143 (1981) Marshak, S.: Earth. Portrait of a Planet. W.W. Norton & Company, New York (2005) Milne, J.: On the form of volcanoes. Geol. Mag. 15, 337–345 (1878) Milne, J.: Further notes on the form of volcanoes. Geol. Mag. 16, 506–514 (1879) Otto, F.: L1-contraction and uniqueness for quasilinear elliptic-parabolic equations. J. Differ. Equ. 131, 20–38 (1996)A. Arjona, J. I. Díaz Polubarinova-Kochina, P.Y.: Theory of Ground Water Movement. Princeton University Press, Princeton(1972) Schmincke, H.U.: Volcanism. Springer-Verlag, Berlin Heidelberg (2004) Turcotte, D.L., Shubert, G.: Geodynamics. Cambridge University Press, United Kingdom (2002) Wadge, G., Francis, P.: A porous flow model for the geometrical form of volcanoes critical comments. Earth Planet. Sci. Lett. 57, 453–455 (1981)
Collections