Publication:
La legislación sobre derechos de autor y su ámbito de aplicación: perspectiva europea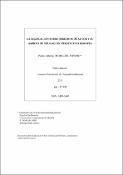 Authors
Advisors (or tutors)
Editors
Abstract
Estudio de los presupuestos de aplicación de la legislación de propiedad intelectual, con especial referencia a su ámbito personal y la determinación de sus beneficiarios. Dicho ámbito se halla en gran medida condicionado por obligaciones derivadas de tratados internacionales, como el Convenio de Berna y el Acuerdo ADPIC, y del Derecho de la Unión Europea, que son objeto de análisis específico.
The study discusses the personal scope of application of copyright legislation and the determination of the beneficiaries of copyright protection. The relevant provisions of international agreements, such as the Berne Convention and the TRIPS Agreement, and the implications of European Union Law in this regard provide the basic legal framework influencing the scope of application of national legislations.
Collections