Publication:
¿Existió un dios eslavo Hennil?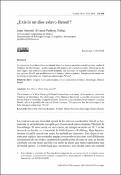 Advisors (or tutors)
Editors
Abstract
La existencia de un dios eslavo occidental Hennil se basa en un testimonio del cronista medieval Thietmar de Merseburgo. La etimología de este teónimo ha suscitado un cierto debate que no ha dado lugar a una solución comúnmente aceptada. Sin embargo, un segundo manuscrito recoge una variante, Bendil, que posiblemente es el teónimo eslavo originario. Esta propuesta cuenta con la ventaja de presentar una etimología indoeuropea *bhendh-.
The existence of a West Slavic god Hennil is based on a testimony of the medieval chronicler Thietmar of Merseburg. The etymology of this theonym has raised a scientific discussion that has not led to a commonly accepted solution. However, a second manuscript contains a variant, Bendil, which is possibly the original Slavic theonym. This proposal has the advantage of an Indo-European etymology *bhendh-.
Description
Aquest document està subjecte a una llicència d'ús Creative Commons. Es permet la reproducció total o parcial, la distribució, la comunicació pública de l'obra i la creació d'obres derivades, sempre que no sigui amb finalitats comercials, i sempre que es reconegui l'autoria de l'obra original
Collections