Publication:
Nivel de confort en enfermos ingresados en unidades de cuidados críticos (UCC)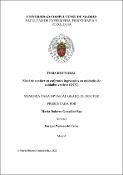 Files
Advisors (or tutors)
Editors
Publisher
Universidad Complutense de Madrid
Abstract
El confort fue definido por Kolcaba como la "Experiencia inmediata de estar fortalecido por tener satisfechas las necesidades de alivio, tranquilidad y trascendencia en los cuatro contextos físico, psicoespiritual, sociocultural y ambiental". En los enfermos críticos, el confort constituye un pilar básico para la seguridad durante su estancia en la Unidad de Cuidados Críticos (UCC) y podría influir sobre el Síndrome post-UCI. El Cuestionario General de Confort (CGC) es una herramienta recomendada para evaluar el confort por Lorente et al., cuya traducción y adaptación transcultural al español fue realizada por la Dra. Ferrer, pero no ha sido validada. Los objetivos de esta tesis fueron evaluar las propiedades psicométricas del CGC en la versión española para enfermos críticos, conocer el nivel de confort y la asociación entre el confort y las variables sociodemográficas y clínicas...
Comfort was defined by Kolcaba as the "Immediate experience of being strengthened by having satisfied the needs for relief, easy and transcendence in the four physical, psychospiritual, sociocultural and environmental contexts". In critically ill patients, comfort is an important support to feel safe during their stay in the Intensive Care Unit (ICU) and could influence Post-Intensive Care Syndrome (PICS). The General Comfort Questionnaire (GCQ) is a recommended tool to assess comfort by Lorente et al., whose translation and cross-cultural adaptation into Spanish was carried out by Dra. Ferrer, but was not validated. The objectives of this thesis were to evaluate the psychometric properties of GCQ in the Spanish version for critically ill patients, to assess the comfort level and the association between comfort and sociodemographic and clinical variables...
Description
Tesis inédita de la Universidad Complutense de Madrid, Facultad de Enfermería, Fisioterapia y Podología, leída el 20-01-2022
Collections