Publication:
Petrología y geoquímica del Edificio Antiguo de la isla de Santa Luzia (archipiélago de Cabo Verde)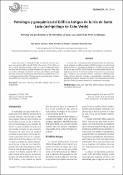 Advisors (or tutors)
Editors
Publisher
Sociedad Geológica de España
Abstract
La isla de Santa Luzia está formada esencialmente por los restos erosivos de, al menos, un edificio volcánico: el Edificio Antiguo. Los restos de este edificio forman en la actualidad una alineación montañosa de dirección NWSE. Se trata de un edificio fisural alineado en la mencionada dirección formado por centenares de metros de coladas de lava de tipo aa y por diques que lo atraviesan. Las rocas que lo forman son básicas y ultrabásicas (basaltos picríticos, basanitas, basaltos y traquibasaltos), intermedias (traquiandesitas) y félsicas (traquitas y fonolitas). El principal proceso generador de estas diferencias composicionales es la cristalización fraccionada.
Santa Luzia island is essentially formed by erosional remnants of, at least, one volcanic edifice: the Old Edifice. The remains of this edifice are now a NW-SE trending mountain range. It is a fisural edifice that follows this trend and is formed by hundreds of meters of aa-type lava flows crosscut by dikes. Lithologic compositions are basic and ultrabasic (picrobasalts, basanites, basalts and trachybasalts), intermediate (trachyandesites) and felsic (trachytes and phonolites). The main process generating these compositional differences is fractional crystallization.
Citation
Allégre, C.J. y Minster, J.F. (1978). Earth Planet Science Letters 38, 1-25. Ancochea, E., Huertas,M.J., Hernán, F. y Brändle, J.L. (2014). Journal of Volcanology and Geothermal Research 274, 1-15. Herrera, R. (2008).Volcanoestratigrafía, composición y evolución de los edificios volcánicos subaéreos de La Gomera. Tesis Doctoral, Univ. Complutense de Madrid, 560 p. Sun, S.S. (1980). Philosophical Transactions of the Royal Society, A297, 409-445. Sun, S.S. y McDonough, W.F. (1989). En: Magmatism in ocean basins (A.D. Saunders and M.J. Norry, Eds.). Geological Society of London, Special Publication 42, 313-345. Thompson, R.N. (1982). Scottish Journal of Geology 18, 49-107. GEOGACETA, 56, 2014 M.Alonso Cótchico, M.J. Huertas Coronel y E. Ancochea Soto
Collections