Publication:
Arte y territorio. Conversaciones con el paisaje en Montenmedio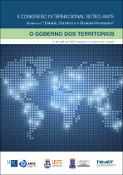 Advisors (or tutors)
Publisher
Grupo de investigacion Analise Territorial (ANTE GI-1871) / Universidade de Santiago de Compostela.
Abstract
Arte y geografía mantienen vínculos que se estrechan durante el siglo xx. Sin embargo, el concepto y uso artístico de los espacios paisajísticos, ha ido cambiando. A una visión mítica del paisaje como naturaleza esencial, propia de la década de los 70, sucedió una consideración territorial del mismo, reconociéndolo como naturaleza determinada por imaginarios simbólicos que había que deconstruir. Hoy se quiere recuperar la dimensión estética y extraer el paisaje del territorio, aunque no volviendo a esencialismos sino como espacio de emancipación. A la luz de estas nociones teóricas se abordan varias experiencias artístico-docentes que hemos desarrollado desde la universidad. Se describe especialmente aquí la última de ellas que se materializó en una serie de obras artísticas realizadas por alumnos y profesores de arte en los espacios naturales de la prestigiosa Fundación Montenmedio Arte Contemporáneo.
Art and geography keep links that become closer during the century xx. However, the concept and artistic use of landscape structures has been changing. In a mythical vision of landscape as essential nature, typical of the 70s, it take place a territorial consideration of it. Today is important to recover the aesthetic dimension and to extract the landscape of the territory, as space of emancipation. From these theoretical notions we have developed various artistic and educational experiences from the addressed university. The last one was materialized in a series of artistic works by art students and teachers in the natural spaces of the prestigious Montenmedio Contemporary Art Foundation.
Collections