Publication:
Comparación de modelos psicométricos para el análisis de pruebas conformadas por testlets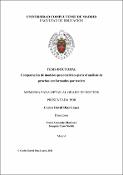 Files
Authors
Editors
Publisher
Universidad Complutense de Madrid
Abstract
El objetivo de la presente tesis doctoral fue comparar los modelos psicométricos utilizados en el análisis de testlets en función de sus índices de ajuste, de la estimación de los parámetros de los ítems, de la precisión e imparcialidad de las puntuaciones, y de su impacto en la clasificación de los examinados. Con base en la revisión sistemática de la literatura se seleccionaron diez modelos psicométricos propios de los enfoques de la teoría de respuesta al ítem, de la teoría de respuesta a los testlets y modelos Bi-factor, los cuales fueron aplicados a un conjunto de datos obtenidos de la aplicación de la Prueba de lectura del Examen de Ingreso a la Educación Superior (UABC, 2017) a una muestra de aspirantes a ingresar a una universidad pública mexicana (n = 30.853).El ajuste de los modelos se determinó con base en los índices de bondad de ajuste y los índices de información (AIC, BIC y DIC). Se comparó la magnitud y precisión de los parámetros de los ítems y de los examinados, así como la fiabilidad de las puntuaciones obtenidas por cada modelo. Para valorar el impacto de los testlets en la imparcialidad de la prueba, se comparó la detección de ítems con funcionamiento diferencial a través del procedimiento de regresión logística. Finalmente, se comparó lacapacidad de cada uno de los diez modelos para seleccionar a los examinados en función de su nivel de habilidad...
The aim of this doctoral thesis was to compare the most common psychometric models applied to testlet-based tests. The models were compared based on their fit indices, the magnitude and precision of the item parameters, the precision and fairness of the scores, and their impact on the classification of the examinees. Based on a systematic review of the literature, ten psychometric models were selected from the item response theory, the testlet response theory, and Bi-factor approach; these models were fitted to a data set of a reading comprehension test used to select students (n = 30,853) to enter a Mexican public university (see UABC, 2017). The model fit was compared based on the goodness of fit indices and the information indices (AIC, BIC and DIC). The magnitude and precision of the parameters were compared, as well as the reliability of the scores obtained by each model. To assess the impact of the testlets on the fairness of the test, the detection differential item functioning was compared via the logistic regression procedure. Finally, the capacity of each of the ten models to select the examinees based on their skill level was compared...
Description
Tesis inédita de la Universidad Complutense de Madrid, Facultad de Educación, leída el 14-12-2021