Publication:
Los dispositivos móviles en el aprendizaje de las ciencias sociales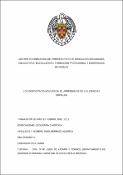 Authors
Advisors (or tutors)
Editors
Abstract
En este trabajo se exponen los principios e ideas para la introducción de las herramientas digitales, los dispositivos móviles, en el ámbito escolar, más concretamente en el área de las ciencias sociales. Nos encontramos ante un mundo cada vez más digitalizado e inmerso en las nuevas tecnologías, es por ello que en primer lugar, los docentes debemos adaptarnos a estos nuevos usos de las tecnologías así como aplicarlos en las aulas con los alumnos, cuya mente y habilidades están preparadas para el uso de estos materiales. La infraestructura de los centros ha ido adaptándose progresivamente a estos cambios, no obstante, en este trabajo se profundiza en las posibilidades de herramientas de la comunicación multimedia y de carácter interactivo, como los dispositivos móviles para el aprendizaje de las ciencias sociales. Para poder ilustrar correctamente este trabajo, debemos mostrar los dispositivos con los que se pretende trabajar. En primer lugar nos encontramos con las tablets y iPads, dispositivos relativamente novedosos, en constante desarrollo, lo que propicia un paulatino aumento de su rendimiento y el poder adaptarlo a nuestras necesidades. En segundo lugar tenemos los smartphones, con más prestaciones que un teléfono móvil. A pesar de su prohibición en las aulas por la ley vigente, pueden resultar un elemento imprescindible en las salidas didácticas (trabajos de campo, visitas a museos etc.) o para el trabajo del alumno fuera del centro. Los dispositivos móviles ofrecen la posibilidad de consultar innumerables datos en la Web, así como de instalar aplicaciones y programas adecuados para la enseñanza de las ciencias sociales, además posibilitan la creación de aplicaciones, pudiendo así adaptar, moldear y crear nuestra propia clase, estableciendo una serie de estrategias construidas para el aprendizaje del alumnado y del profesorado, lo cual beneficiará a la formación de ambos y por consiguiente a la sociedad en general.
In this work it explained the principles and ideas to introducing the digital tools, like tablets and smartphones, into the teaching and schooling area, more specifically into social sciences area. We Found in a world more and more digitized and deep into the new technologies, for this, in the first place, the teachers should be adapted to the new technologies uses, also Apply them into the classrooms with the students, with an abilities and mind are ready for use these materials. This is true that the schools infrastructure has adapted progressively to these changes, however in this work it offers the possibility to adapt these new interactive and multimedia tools into the socials sciences. To illustrate correctly this work, should be show the gadgets with which we will work. In the first place have the tablets, a relativity new device, in constantly developing, generating a progressive increases their efficiency, and this way adapted to our needs. In the second place have the mobile phones, despite it banned into the classroom for the in force act, if it can be necessary element into the excursions (fieldwork museum visits etc.) or for the student homework. The tablets and smartphones offer the possibilities to download Apps and programs suitable for the social sciences teaching, besides the possibilities to make ours Apps, can be this way adapt, make and create our own classroom, set up strategies built for the students and teachers learning, it will improve the formation of both and resultant to the society in general.