Publication:
Abuelas, madres e hijas rurales. Conceptualización de lo femenino en los aquelarres de España y Chile. Estudio comparativo a través del método biográfico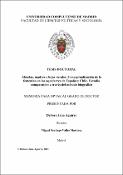 Files
Authors
Advisors (or tutors)
Editors
Publisher
Universidad Complutense de Madrid
Abstract
La presente investigación aborda la conceptualización que elaboran de lo femenino tres generaciones de mujeres rurales de Chile y España -abuelas, madres e hijas- a partir del estudio de sus trayectorias biográficas y de los elementos socioculturales que intervienen en su configuración. La perspectiva teórica metodológica utilizada articula la comprensión de lo femenino como construcción sociocultural, los aportes de la teoría feminista y la comprensión de las mujeres como un colectivo heterogéneo, con una estrategia cualitativa sustentada en el método biográfico que, a través de la realización de entrevistas biográficas, profundiza en las particularidades de lo femenino desde una perspectiva intergeneracional y territorial. En base al análisis de los modelos hegemónicos de lo femenino en la modernidad -mujer doméstica como primera mujer del período y la nueva mujer como proyecto aspirado- se presentan dos principales resultados. Por una parte, un análisis comparado de las mujeres, identificando cambios y permanencias en las pautas socioculturales y trayectorias biográficas, identificando además su relación con la ruralidad -como estructura dinámica y compleja- y los procesos de modernización de la zona. Y, por otra, una tipología de lo femenino compuesto por cinco tipos de mujeres rurales en los países considerados, a saber, la mujer rota, la cuidadora consagrada, la siempre repetida cabeza de familia, las mujeres de la modernización y con trayectorias en construcción y la mujer invisibilizada o la mujer de tercera edad.
This investigation addresses how the concept of femininity is construed across three generations of rural women in Chile and Spain—grandmothers, mothers, and daughters—by studying their biographical trajectories and the sociocultural factors which shape their understanding of the concept. The theoretical and methodological framework aims to articulate femininity as a sociocultural construct, engage with feminist theory, comprehend women as a heterogeneous collective, and provide a qualitative strategy sustained on biographical methods such as interviews, which further examine the particularities of femininity from an intergenerational and territorial perspective. Based on an analysis of modernity's hegemonic models of femininity—the domestic woman as the period's first female prototype and the new woman as an aspiring project—we present two major results. First of all, we develop a comparative analysis of the women, identifying changes and continuities in their sociocultural patterns and biographical trajectories, as well as their relationship with rurality—a dynamic and complex structure—and the modernization processes in this area. Second of all, we offer a typology of femininity which includes five types of rural women in Chile and Spain: the rude woman, the devoted care taker, the perpetual head of household, the woman of modernization with an evolving trajectory, and the invisibilized or elderly woman.
Description
Tesis inédita de la Universidad Complutense de Madrid, Facultad de Ciencias Políticas y Sociología, leída el 20-07-2021
Collections