Publication:
Aprendizaje del chino como lengua heredada e identidad en los hijos de inmigrantes chinos de la comunidad de Madrid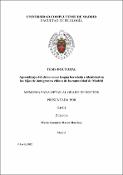 Files
Authors
Advisors (or tutors)
Editors
Publisher
Universidad Complutense de Madrid
Abstract
El colectivo chino es, en la actualidad, uno de los mayores grupos de inmigrantes en la Comunidad de Madrid. En los últimos años, muchos estudiosos e investigadores han realizado numerosos trabajos dedicados al análisis del modelo económico chino ya la integración social de sus miembros; sin embargo, desde el sector académico se ha omitido el estudio de la enseñanza de la lengua heredada para niños, jóvenes y adolescentes, restando importancia al valor de la herencia cultural para los hijos de inmigrantes de origen chino. Teniendo como un punto de partida una escuela de chino (ELEC) situada en la Comunidad de Madrid, el presente estudio pretende perfilar los esfuerzos conjuntos realizados por los miembros de la comunidad china en la transmisión de su lengua y cultura, a través de diversas prácticas culturales que ponen en evidencia su función en la construcción y negociación identitarias de los aprendientes del chino como lengua heredada (ACLH). La investigación se desarrolló siguiendo una metodología mixta. Se coleccionaron datos cuantitativos y cualitativos utilizando técnicas de encuesta, entrevistas, observación participante y métodos de evaluación de habilidades lingüísticas. Las herramientas más importantes empleadas en la etapa de análisis son los programas de CLAN y MAXQDA...
Chinese is one of the largest groups of immigrants in the Community of Madrid currently. Despite the extensive research on the Chinese economic model and its members' social integration, little attention has been paid to the research on the development of Chinese immigrant descendants' heritage language. In case of a Chinese heritage language school (ELEC) in the Community of Madrid, this study aims to characterize the collaborative efforts of Chinese community members in transmitting their language and culture through various cultural practices, as well as their role in building and negotiating the identity of Chinese heritage language learners. The research has been developed according to the mixed methodology. Quantitative and qualitative data were collected using survey techniques, interviews, participant observation, and language assessment methods. The most important tools used in the analysis are the CLAN and MAXQDA programs...
Description
Tesis inédita de la Universidad Complutense de Madrid, Facultad de Filología, leída el 22-03-2022
Collections