Publication:
Manuel Augusto Bedoya : el periodismo y la literatura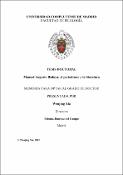 Files
Authors
Advisors (or tutors)
Editors
Publisher
Universidad Complutense de Madrid
Abstract
En esta investigación, nos enfocamos principalmente en el estudio de un escritor y periodista peruano, Manuel Augusto Bedoya Lerzundi, quien ha hecho una gran contribución al desarrollo de la literatura hispanoamericana, pero ha quedado injustamente relegado al olvido tanto en América Latina como en Europa en la actualidad. Con el objetivo de conocer más de cerca a este luchador y acercarnos a la sociedad peruana que no nos tocó experimentar, esta investigación se centra en el análisis de los dos ámbitos más prolíficos de Bedoya, que son el periodismo y la literatura, especialmente, en sus colaboraciones periodísticas en la prensa española e hispanoamericana y sus narraciones novelísticas más representativas durante el primer tercio del siglo xx. En aquella etapa, casi todos los diarios y revistas en los que colaboró este periodista peruano alcanzaron gran popularidad. Este sostenía que entretener al lector no era la única función de la prensa, resultaba más urgente asumir su responsabilidad social a la hora de interpretar el mundo y la realidad. En Perú dio a conocer a olvidados pero importantes escritores europeos; en España difundió la voz de los intelectuales latinoamericanos. Fundó en Madrid dos columnas, "Carnet Latino-Americano" de Nuevo Mundo y "Página Iberoamericana" de El Sol, para publicar secciones que reflejan semanalmente los acontecimientos de la vida local y nacional, la intelectualidad latinoamericana en España, el progreso cultural, el rápido desarrollo de la economía y la tecnología, incluso los problemas históricos o sociales tales como injusticias, desigualdades y discriminaciones sociales en América Latina...
In this research, we focus mainly on the study of a Peruvian writer and journalist, Manuel Augusto Bedoya Lerzundi, who has made a great contribution to the development of Spanish-American literature, but nowadays has been unjustly relegated to oblivion in both Latin America and Europe. With the aim of getting to know this great fighter more closely and getting closer to Peruvian society that we did not have to experiment, this research focuses on the analysis of the two most prolific areas of Bedoya, which are journalism and literature, especially, in his journalistic collaborations in the Spanish and Latin American press and his most representative novelistic works during the first third of the 20th century. At that stage, almost all the newspapers and magazines in which this Peruvian journalist collaborated reached great popularity. Bedoya argued that entertaining the reader was not the only function of the press, it was more urgent to assume his social responsibility when interpreting the world and reality. In Peru, he introduced forgotten but important European writers; in Spain he spread the voice of Latin American intellectuals. He founded two columns in Madrid, "Carnet Latino-Americano" in the magazine Nuevo Mundo and "Página Iberoamericana" in the newspaper El Sol, to publish sections that reflect weekly local and national life events, the Latin American intelligentsia in Spain, cultural progress, the rapid development of the economy and technology, even historical or social problems such as injustices, inequalities and discrimination in Latin America...
Description
Tesis inédita de la Universidad Complutense de Madrid, Facultad de Filología, leída el 01-04-2022
Collections