Publication:
Michel Foucault y el problema del siglo : un itinerario posible (1968-1979)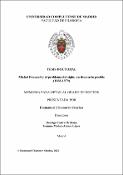 Files
Authors
Advisors (or tutors)
Editors
Publisher
Universidad Complutense de Madrid
Abstract
La presente investigación doctoral tiene como objetivo reconstruir la trayectoria intelectual de Michel Foucault desde 1968 hasta 1979. Aunque toda partición de este tipo ilumina unas facetas y ensombrece otras, la que este trabajo propone se justifica por dos motivos. El primero de ellos, que remite al propio desarrollo del trabajo foucaultiano, tiene que ver con su análisis del poder. Este comienza a desplegarse después de 1968 y encuentra su límite en1979, con el curso Nacimiento de la biopolítica. Por supuesto, tal corte no refleja la complejidad de la trama intelectual foucaultiana que nunca dejó de atender a la cuestión del gobierno delos otros, pero sí permite acotar una trayectoria que claramente dará un giro a partir de 1980.El segundo motivo es biográfico y se vincula al contexto en el que Foucault desarrolló su analítica del poder y el modo en que este impactó en sus diferentes formulaciones. Si la posibilidad misma de aislar este tema y dotarlo de valor filosófico vino dada por los acontecimientos de 1968, los vaivenes del campo político e intelectual francés y las transformaciones que la sociedad experimenta en la época modulan el análisis foucaultiano acompañando —aunque desde una posición propia— un movimiento generacional que conduce, al final de la década de los setenta, a algunas de las figuras centrales del izquierdismo militante posterior al 68 a posiciones políticas inimaginables solo unos años atrás...
The purpose of the current doctoral research is to reconstruct Michel Foucault's intellectual path from 1968 to 1979. Although any partition of this type illuminates some sides and shadows others, our choice is justified for two reasons. The first, which refers to the development of Foucauldian work, refers to his analysis of power. This begins to be developed after 1968 and finds its end in 1979, with the course Birth of Biopolitics. Of course, such partition does not reflect the complexity of the Foucauldian intellectual framework, which never ceased to address the problem of the government of others, but it does allow us to define a path that would clearly take a turn after 1980. The second reason is biographical in nature and is related to the context in which Foucault developed his analytic of power and the way in which it affected his transformations. If the very possibility of identifying this theme and providing it with philosophical value was triggered by the events of 1968, the fluctuations of the French political and intellectual field and the transformations that society experienced at the time modulated the Foucauldian analysis, accompanying – although from its own position – a generational movement that led, at the end of the 1970s, some of the central figures of post-1968 militant leftism to take political positions that would have been unimaginable only a few years before...
Description
Tesis inédita de la Universidad Complutense de Madrid, Facultad de Filosofía, leída el 07-04-2022
Collections