Publication:
Automatización de bibliotecas universitarias del área metropolitana de la ciudad de México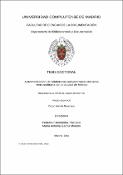 Files
Authors
Advisors (or tutors)
Editors
Publisher
Universidad Complutense de Madrid
Abstract
Las condiciones actuales de competitividad y supervivencia a las que están sometidas todas las instituciones de educación superior para poder responder a los desafíos del nuevo milenio, marcado por la globalización, la modernización de la economía y la integración del binomio conocimiento/información, exigen del sistema educativo un mejoramiento continuo, que le permita lograr procesos y productos de calidad. Velar por el desarrollo y la excelencia de la educación es un compromiso de toda sociedad, pero en particular es una responsabilidad y un imperativo del sistema educativo y sus instituciones. Su cumplimiento tiene incidencia directa en las transformaciones educativas, sociales, económicas, políticas y culturales de un país. Toda institución educativa debe contar con bibliotecas para la obtención, conservación, organización y difusión de la información en diferentes soportes, con el objetivo de permitir el acceso a los conocimientos contenidos en esos soportes; éstas juegan un papel preponderante en la misión de las instituciones de educación superior. En esta tesis se presenta un panorama sobre las condiciones respecto a la automatización de las bibliotecas universitarias del Área Metropolitana de la Ciudad de México, dónde se analiza si las condiciones del uso de las TIC facilitan y apoyan la misión de las instituciones de educación superior.
The current conditions of competitiveness and survival which are undergoing all higher education institutions to respond to the challenges of the new millennium, marked by globalization, modernization of the economy and the integration of the binomial knowledge / information, call the system educational continuous improvement, enabling them to secure quality processes and products. Ensure development and excellence in education is a commitment of society, but in particular is a responsibility and a requirement of the educational system and its institutions. His performance has direct impact on educational change, social, economic, political and cultural in a country. All school libraries should have for the collection, storage, organization and dissemination of information in various media, in order to allow access to the knowledge contained in these media, they play a role in the mission of the institutions higher education. This thesis presents an overview of the conditions concerning the automation of university libraries in the Metropolitan Area of Mexico City, where it discusses whether the conditions of use of TIC's facilitate and support the mission of higher education institutions.
Description
Tesis inédita de la Universidad Complutense de Madrid, Facultad de Ciencias de la Documentación, Departamento de Biblioteconomía y Documentación, leída el 05/11/2013
Collections