Publication:
La O-β-N acetilglicosilación protéica en la hipertrofia del condrocito durante la condrogénesis y la artrosis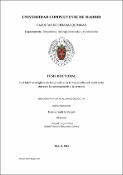 Files
Authors
Advisors (or tutors)
Editors
Publisher
Universidad Complutense de Madrid
Abstract
La artrosis (OA) es la patología reumática más común en la población mayor de 65 años de edad, pudiendo afectar hasta el 70%. Esta enfermedad se caracteriza principalmente por la degradación del cartílago articular aunque también se producen alteraciones en otros tejidos articulares. Además, en los últimos años se ha descrito que el condrocito artrósico presenta un fenotipo hipertrófico similar al que se encuentra en la placa de crecimiento durante el desarrollo. En esta tesis se ha estudiado el papel que el sistema de O-β-N-Acetilglicosilación (OGlcNAc) puede tener en el desarrollo del fenotipo hipertrófico del condrocito durante la artrosis. Este tipo de modificación post-traduccional ha sido relacionado anteriormente con otras enfermedades crónicas, degenerativas y asociadas a la edad. Hemos observado que el perfil proteómico de proteínas O-GlcNAc en el cartílago artrósico es muy diferente al del cartílago sano. En conjunto, cada tipo de cartílago presenta un aumento en la O-GlcNAc de proteínas involucradas en procesos biológicos característicos de su estado, y por tanto la O-GlcNAc se modifica en paralelo al fenotipo del condrocito. La O-GlcNAc que participa en el mantenimiento de la matriz, de la adhesión celular o del citoesqueleto del condrocito en el estado sano contrasta con los procesos de proteólisis y destrucción de la matriz que están regulados por O-GlcNAc en el cartílago OA. Hemos demostrado, en un modelo in vivo en ratones que reproduce varios de los eventos celulares que tienen lugar en el condrocito artrósico, que un aumento de proteínas O-GlcNAc incrementa la altura de la zona hipertrófica de la placa de crecimiento durante la condrogénesis. Nuestros estudios in vitro han revelado que la diferenciación hipertrófica del condrocito está precedida de un aumento en la cantidad de proteínas O-GlcNAc. Además, no solo esta modificación es estrictamente necesaria para desarrollar el fenotipo hipertrófico, sino que un acúmulo de proteínas O-GlcNAc es suficiente para inducir esta diferenciación. La alteración de O-GlcNAc en el fenotipo condrocitario de la artrosis abre la puerta para elucidar nuevas dianas terapéuticas para futuros tratamientos de esta patología. [ABSTRACT]Osteoarthritis (OA) is the most common rheumatic disease in population over 65 years and can affect up to 70%. This disease is characterized mainly by cartilage degradation but also by alterations in other joint tissues. Furthermore, in the last few years it has been described that osteoarthritic chondrocytes present a hypertrophic phenotype similar to that found in the growth plate during development.In this work we have studied the role of the O-linked-β-N-Acetyl-glycosylation (OGlcNAc)system in the development of chondrocyte hypertrophic phenotype during osteoarthritis. This type of post-translational modification has been previously linked to other chronic, degenerative and age-related diseases. We observed a very different proteomic profile of protein O- GlcNAc in healthy and osteoarthritic cartilage. Each type of cartilage appears to increase O- GlcNAc proteins involved in biological processes characteristic of its state, and thus the O- GlcNAc is modified in parallel to chondrocyte phenotype. The involvement of O- GlcNAc in matrix maintenance, cellular adhesion or chondrocyte cytoskeleton in the healthy state contrasts with the processes of proteolysis and matrix destruction which are regulated by O- GlcNAc in OA cartilage.We have shown in a mouse model, which reproduces multiple cellular events that occur in osteoarthritic chondrocytes that an increase of protein O-GlcNAc increases the height of the hypertrophic zone in the growth plate during chondrogenesis.Our in vitro studies have revealed that chondrocyte hypertrophic differentiation is preceded by an increase in the amount of protein O- GlcNAc. Moreover, not only this modification is strictly necessary to develop the hypertrophic phenotype, but an accumulation of protein O- GlcNAc is sufficient to induce this differentiation. Alteration of O- GlcNAc proteins in chondrocyte phenotype during osteoarthritis opens the door to elucidate new targets for future treatments of this disease.
Description
Tesis inédita de la Universidad Complutense de Madrid, Facultad de Ciencias Químicas, Departamento de Bioquímica, Biología Molecular y Biomedicina, leída el 08-11-2013
Collections