Publication:
Hacia una lexicografía de los quipus : estudio etnohistórico sobre la función y contenido del sistema andino de registros de la información mediante cuerdas y nudos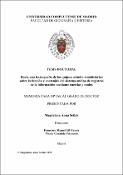 Files
Authors
Advisors (or tutors)
Editors
Publisher
Universidad Complutense de Madrid
Abstract
La presente tesis de doctorado, titulada "Hacia una lexicografía de los quipus. Estudio etnohistórico sobre la función y el contenido del sistema andino de registro de la información mediante cuerdas y nudos", constituye el primer intento de recopilar el léxico asentado en los quipus. Asimismo, propone un enfoque novedoso en este campo de investigaciones, que consiste en aplicar el análisis lingüístico sobre la base de transcripciones coloniales de la lectura de quipus. El nombre de estas herramientas proviene del idioma quechua, donde quipu significa "nudo". De hecho, los registros andinos están compuestos de cuerdas –una cuerda principal y varias colgantes fijadas a la principal– y de nudos. Los quipus fueron empleados por dos culturas prehispánicas, la Huari y la Inca, y siguieron en uso durante décadas posteriores a la conquista. En algunas remotas aldeas andinas su empleo se mantuvo hasta la actualidad. Sin embargo, su estructura y contenidos han sido simplificados o han adquirido nuevos significados. Tradicionalmente, se sostenía que eran registros contables o herramientas mnemotécnicas. En los últimos años, sin embargo, surgen propuestas de interpretarlos como un sistema semasiográfico...
The present doctoral thesis, entitled "Towards a lexicography of quipus. An ethnohistorical study on the function and content of the Andean system of recording information by means of strings and knots", is the first attempt to compile the lexicon found in quipus. It also proposes a novel approach in this field of research, which consists of applying linguistic analysis on the basis of colonial transcriptions of quipus reading.The name of these tools comes from the Quechua language, where quipu means "knot". In fact, Andean records are composed of strings –one main string and several pendants attached to the main string– and knots. Quipus were used by two pre-Hispanic cultures, the Huari and the Inca, and remained in use for decades after the conquest. In some remote Andean villages their use continued until the present day. However, their structure and contents have been simplified or have acquired new meanings. Traditionally, it was held that they were accounting records or mnemonic tools. In recent years, however, proposals have arisen to interpret them as a semasiographic system...
Description
Tesis inédita de la Universidad Complutense de Madrid, Facultad de Geografía e Historia, leída el 07-07-2022
Collections