Publication:
Prevention and early diagnosis of peri-implantitis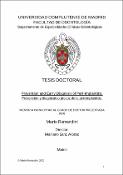 Files
Authors
Advisors (or tutors)
Editors
Publisher
Universidad Complutense de Madrid
Abstract
La alta prevalencia, la rápida progresión que conduce a la pérdida del implante y la limitada eficacia a largo plazo de los tratamientos disponibles, hacen de la periimplantitis uno de los principales desafíos de la odontología moderna. La mejor estrategia para hacer frente a las enfermedades humanas caracterizadas por esas características suele estar representada por la prevención primaria y, una vez iniciada la enfermedad (fallo de las medidas preventivas), en su detección precoz para permitir los tratamientos oportunos. Objetivos. Los objetivos generales de la presente tesis fueron identificar indicadores de riesgo modificables de periimplantitis para establecer las consiguientes medidas de prevención primaria, e identificar herramientas para mejorar el diagnóstico precoz de la enfermedad. Los objetivos específicos fueron: (1) estudiar una lista amplia de indicadores de riesgo/protección de periimplantitis propuestos previamente y nuevos potenciales, tomando en cuenta las complejas relaciones de esos factores entre ellos a través de modelos de regresión multivariante multinivel (Estudio #1); (2) evaluar los síntomas y la percepción de las enfermedades periimplantarias por parte de los pacientes (Estudio #2); (3) determinar si los hallazgos clínicos (sangrado al sondaje - BoP, supuración al sondaje - SoP, profundidad de la bolsa al sondaje - PPD, dehiscencia de tejidos blandos periimplantarios - PISTD, enrojecimiento y/o hinchazón de la mucosa) alrededor de los implantes son relevantes como pruebas de cribado para la pérdida de hueso marginal (Estudio #3) y para la presencia de periimplantitis (Estudios #2, #4 y #5); (4) analizar la precisión diagnóstica de las evaluaciones clínicas y radiográficas realizadas en un único momento durante el seguimiento (evidencia indirecta, ausencia de documentación de referencia) para identificar la presencia de periimplantitis verificada a través de la evidencia directa (Estudio #4)...
The high prevalence, the rapid progression leading to implant loss and the limited long-term efficacy of available treatments make peri-implantitis one of the main challenges for modern dentistry. The best strategy to face human diseases characterized by those features is usually represented by primary prevention and – once the disease onset (failure of preventive measures) – in its early detection to allow timely effective treatment. Objectives.The general objectives of the present thesis were to identify modifiable risk indicators of peri-implantitis in order to set up consequent primary prevention measures, and to identify tools to improve early diagnosis of the disease.The specific objectives were: (1) to study a comprehensive list of previously proposed risk/protective indicators of peri-implantitis and new potential ones, taking into account the complex relationships of those factors between them through multilevel multivariate modeling (Study #1); (2) to evaluate the patient's reported symptoms and perception of peri-implant diseases (Study #2); (3) to determine whether clinical findings (bleeding on probing - BoP, suppuration on probing - SoP, probing pocket depth - PPD, peri-implant soft tissue dehiscence - PISTD, mucosal redness and/or swelling) at implant sites are relevant as screening tests for a history of marginal bone loss (Study #3) and for the presence of peri-implantitis (Study #2, #4 & #5); (4) to analyze the diagnostic accuracy of clinical and radiographic evaluations made at a single time point during follow-up (indirect evidence, absence of baseline documentation) in identifying the presence of peri-implantitis, as assessed by direct evidence (Study #4)...
Description
Tesis inédita de la Universidad Complutense de Madrid, Facultad de Odontología, leída el 25-05-2022.
Collections