Publication:
Caracterización fenotípica y seguimiento endoscópico del síndrome de poliposis serrada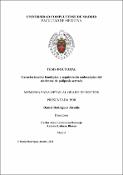 Files
Authors
Advisors (or tutors)
Editors
Publisher
Universidad Complutense de Madrid
Abstract
El cáncer colorrectal (CCR) es el tercer tumor maligno más incidente a nivel mundial y el primero en España si consideramos ambos sexos, y conlleva una elevada morbi-mortalidad. A pesar de que durante décadas se asumió que prácticamente la única lesión precursora del CCR era el adenoma colorrectal, desde hace 15–20 años se sabe que también los pólipos serrados (PS) pueden malignizar –en este caso, a través de la vía serrada de la carcinogénesis–, siendo el origen del 25–30% de los CCR esporádicos. El síndrome de poliposis serrada (SPS) –que es la poliposis de colon más prevalente– es una entidad caracterizada por la existencia de PS múltiples y/o de gran tamaño a lo largo de todo el colon, y se define según la OMS (2010) por la presencia de uno o más de los siguientes criterios diagnósticos: 1) al menos cinco PS proximales al colon sigmoide, de los cuales dos o más debían ser mayores de 10 mm; o 2) cualquier número de PS proximales al colon sigmoide en un paciente con un familiar de primer grado diagnosticado de SPS; o 3) más de 20 PS de cualquier tamaño, distribuidos a lo largo de todo el colon. El SPS se asocia a un riesgo aumentado de CCR (15,8–36,7%) con respecto a la población general. No obstante, se ha demostrado que tras extirpar todos los pólipos existentes en el momento del diagnóstico (lo que se ha denominado "clearance") y bajo un estrecho seguimiento endoscópico, el riesgo de CCR está sólo ligeramente elevado (incidencia acumulada entre 0 y 7% a los cinco años)...
Colorectal cancer (CRC) is the third more incident malignant tumour worldwide and the first in Spain considering both sexes, and implies high morbidity and mortality. Even though it was assumed during decades that virtually the only precursor lesion ofCRC was colorectal adenoma, for 15–20 years it is known that also serrated polyps (SP) can become malignant –specifically through serrated neoplasia pathway–, originating 25–30% of sporadic CRC. Serrated polyposis syndrome (SPS) –which is the most prevalent colonic polyposis– is a condition characterized by the presence of multiple and/or large SP throughout the colon, and defined by the WHO (2010) as the fulfilment of one or more of these criteria: 1) at least five SP proximal to the sigmoid colon with two or more of these being >10 mm; or 2) any number of SP proximal to the sigmoid colon in an individual who has a first-degree relative with SPS; or 3) more than 20 SP of any size, but distributed throughout the colon. SPS is associated to an increased CRC risk (15.8–36.7%) compared to general population. Nevertheless, it has been shown that once the polyps present at diagnosis are resected (called "colonic clearance") and under close endoscopic follow-up, CRC risk is only slightly elevated (cumulative incidence of 0–7%at five years)...
Description
Tesis inédita de la Universidad Complutense de Madrid, Facultad de Medicina, leída el 23-05-2022
Collections