Publication:
Karl Lagerfeld en Chanel y el desfile Shopping Center como canal de comunicación : un análisis desde la semiótica y la empresa informativa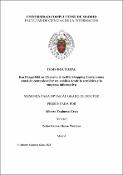 Files
Authors
Advisors (or tutors)
Editors
Publisher
Universidad Complutense de Madrid
Abstract
Karl Lagerfeld (1933-2019) estuvo al frente de la firma de moda Chanel desde 1982 hasta 2019. Durante este tiempo, la moda se globalizó y alcanzó una nueva era: la de los diseñadores cuya misión es perpetuar en el tiempo un patrimonio heredado. A través del estilo Chanel, Lagerfeld amplió ese patrimonio y logró traducirlo al lenguaje de cada temporada, para poder seguir siendo considerado como moda. Gracias a la celebración de los desfiles, la firma comunicó la marca actuando como empresa informativa. Chanel logró con los desfiles acelerar el tiempo y las colecciones, así como adaptarlas a las necesidades y soportes comunicativos del momento (Instagram). Logró perpetuar un estilo propio: el uso del Grand Palais como espacio contenedor para poder llevar a cabo grandes puestas en escena que reflejasen la vida activa y real. Este es uno de los grandes valores de la moda Chanel estipulados por su fundadora, mantenidos y aumentados gracias a la labor de Karl Lagerfeld. A través del ejemplo del desfile Chanel Shopping Center, en el que se presentó la colección otoño invierno 2014-2015, podemos dar explicación a la carrera del diseñador. Cabe ilustrar el uso del patrimonio cultural de la firma en la puesta en escena y en la colección a través de la combinación de la estética del mantenimiento y la estética del momento. Es una de las fórmulas por la que una firma de moda perdura y pervive en el tiempo. La trayectoria del diseñador en la firma ha establecido un modo de concebir la moda en los diseñadores contemporáneos. La comunicación es un ítem que la empresa fomenta para seguir manteniendo su valor e imagen de marca. La semiótica, como ciencia que estudia los signos en el seno de la vida social, supone un modo de interpretación del caso de estudio, fundamentada en el signo propio usado para perpetuarse.
Karl Lagerfeld (1933-2019) led the Chanel fashion brand from 1982 to 2019. During this time, fashion went global and reached a new era: that of designers whose mission is to perpetuate an inherited heritage in time. Through the Chanel style, Lagerfeld expanded that heritage and managed to translate it into the language of each season, so that it was still considered fashion. Thanks to its runway shows, the firm communicated the brand, acting as an information company. With the shows, Chanel managed to speed up time and the collections, adapting them to the needs and media channels of the moment (Instagram). It could perpetuate its own style: the use of the Grand Palais as a container space to carry out great productions that reflected real and active life. This is one of the great values of Chanel fashion stipulated by its founder, maintained and increased thanks to the work of Karl Lagerfeld. Through the example of the runway show Chanel Shopping Center, in which the fall winter 2014-2015 collection was presented, we can explain the designer's career. It is worth illustrating the use of the firm's cultural heritage in the staging and in the collection through the combination of the aesthetics of maintenance and the aesthetics of the moment. It is one of the formulas by which a fashion firm endures and survives over time. The designer's career in the firm also established a way of conceiving fashion for contemporary designers. Communication is an element that the company encourages in order to continue maintaining its brand value and image. Semiotics, as a science that studies signs within social life, entails a way of interpreting the case study, based on its own sign used to perpetuate itself.
Description
Tesis inédita de la Universidad Complutense de Madrid, Facultad de Ciencias de la Información, leída el 27-05-2022
Collections