Publication:
La comunicación horizontal como metodología activa : un recurso eficaz para el aprendizaje en Ciencias de la Información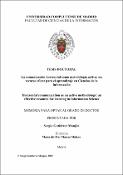 Files
Authors
Advisors (or tutors)
Editors
Publisher
Universidad Complutense de Madrid
Abstract
Esta tesis doctoral se centra en el estudio de la comunicación como eje vertebrador del proceso de enseñanza-aprendizaje, más concretamente, en cómo se adoptan distintos modelos comunicativos en función de la metodología docente a aplicar. Por este motivo esta investigación se circunscribe en las disciplinas de las Ciencias de la Información, la Educación y la Tecnología de la Información y la Comunicación. Este estudio analiza la relación entre comunicación y educación a través de las competencias digitales docentes en las que en su desarrollo intervienen factores de índole social, tecnológico e institucional. De este modo, en este trabajo se compara el modelo de educación superior de España y Finlandia en la rama de Comunicación para examinar cómo se implementan estas competencias en universidades de ambos países. En el marco teórico se toma como referencia la consolidación del Espacio Europeo de Educación Superior en España y Finlandia. Se analizan los avances tecnológicos que condicionan el estilo de vida que tienen los ciudadanos en la Unión Europea para, posteriormente, indagar en cómo afecta el uso de la tecnología en la aplicación de metodologías activas en la universidad. En este sentido, en estas metodologías se estudia el empleo de recursos digitales y dinámicas basadas en la comunicación para mejorar el proceso de enseñan-aprendizaje universitario. Todo ello enmarcado en la situación provocada por la pandemia de la COVID-19. Por ello, se estudia cómo se desarrolla el proceso comunicativo en un contexto de aula en profesores y estudiantes de la Universidad Complutense de Madrid y la Universidad de Helsinki...
This doctoral thesis focuses on the study of communication as the backbone of the teaching-learning process, more specifically, on how different communicative models are adopted depending on the teaching methodology to be applied. For this reason, this research is limited to the disciplines of Information Sciences, Education and Information and Communication Technology. This study analyses the relationship between communication and education through digital teaching competences in which social, technological and institutional factors are involved in their development. In this way, this work compares the higher education model in Spain and Finland in the field of Communication to examine how these competences are implemented in universities in both countries.The theoretical framework is based on the consolidation of the European Higher Education Area in Spain and Finland. The technological advances that condition the lifestyle of citizens in the European Union are analysed to subsequently investigate how the use of technology affects the application of active methodologies at university. In this sense, these methodologies study the use of digital resources and communication-based dynamics to improve the university teaching-learning process. All of this is framed within the situation caused by the COVID-19 pandemic. For this reason, it is studied how the communicative process develops in a classroom context in teachers and students at the Complutense University of Madrid and the University of Helsinki...
Description
Tesis inédita de la Universidad Complutense de Madrid, Facultad de Ciencias de la Información, leída el 22-06-2022
Collections