Publication:
Catéter venoso central con fármacos vasoactivos : alteraciones hemodinámicos y analíticas. Utilización de muestra arterial para control de glucemia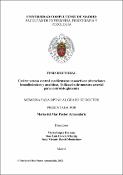 Files
Authors
Advisors (or tutors)
Editors
Publisher
Universidad Complutense de Madrid
Abstract
El uso de la investigación en nuestra labor como enfermeras, incluye, hacer preguntas y cuestionar la práctica diaria. La búsqueda de conocimientos lleva a los profesionales de enfermería, al uso de instrumentos de medición ya validados para la realización de proyectos de investigación. Los CVC (Catéteres Venosos Centrales) son de uso frecuente en las unidades de cuidados intensivos y reanimación para el manejo del paciente en una situación crítica. Estos catéteres aportan información valiosa para el diagnóstico, valoración del paciente y el tratamiento del mismo en situaciones graves de inestabilidad hemodinámica, principalmente. Es de vital importancia, el consenso hospitalario del uso de estos catéteres, ya que proporcionan una herramienta muy útil y con cada vez menos riesgos potenciales asociados a su uso. Un CVC es considerado como tal, cuando el extremo distal del mismo está ubicado en la vena cava inferior, vena cava superior o en cualquier zona de la anatomía cardiaca. Los CVC tienen como objetivo, las mediciones hemodinámicas, aportes parenterales al paciente, cubrir necesidades de urgencia, extracciones sanguíneas, administración de fármacos vasoactivos, etc. Por sus características, son los más aptos para los pacientes de UCIs y REAs...
The use of research in our practice as nurses includes, asking questions and questioning daily practice. The search for knowledge, leads nursing professionals, to the use of already validated measurement instruments to carry out research projects.CVCs (Central Venous Catheters) are frequently used in intensive care and resuscitation units for patient management in critical situations. These catheters provide valuable information for diagnosis, patient assessment and treatment, mainly in severe situations of hemodynamic instability hospital consensus on the use of these catheters. Is of vital importance, since they provide a very useful tool and increasingly less potential risks associated with their use.A CVC is considered as such when its distal end is located in the inferior vena cava, superior vena cava or in any area of the cardiac anatomy...
Description
Tesis inédita de la Universidad Complutense de Madrid, Facultad de Enfermería, Fisioterapia y Podología, leída el 05-07-2022
Collections