Publication:
El ejemplar del Geka seiso (1791) de la Colección Francisco Guerra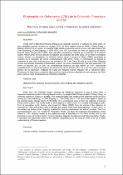 Files
Advisors (or tutors)
Editors
Publisher
Biblioteca Histórica Marqués de Valdecilla
Abstract
Desde 2007 la Biblioteca Histórica Marqués de Valdecilla conserva un ejemplar del Geka seiso, un libro xilográfico japonés impreso en el siglo XVIII. Su título original chino es Waik'o Cheng Tsung, o Método ortodoxo de la cirugía, en español. Esta tratado médico fue escrito al inicio del siglo anterior por Chen Shih-kung, o Chen Shigong, (c. 1555-1636), y en 1791 fue editado de nuevo en Japón por el médico imperial Ogino Gengai (1737-1806). Este ejemplar complutense proviene de la colección de Francisco Guerra Pérez-Carral. En este artículo se estudian tres aspectos del Geka seiso, en un orden cronológico inverso. Primero, su adquisición por el doctor Guerra, quien lo compró en Miami (1990), procedente el volumen de la colección del doctor norteamericano Otto Orren Fisher. A continuación se analiza el contenido de esta obra, publicada por vez primera en 1611, en China. En ella su autor (Chen Shigong) incluyó sus famosos preceptos profesionales y éticos: Los cinco mandamientos y las diez exigencias. Por último se estudian, por un lado, las circunstancias históricas de esta edición en 1791, relacionada probablemente con el proceso político de restauración de los estudios Chu Hsi, y por otro lado el proceso técnico de su impresión, realizado en Kyoto por Hayashi Gonbe, Hayashi Ihe y Takemura Kahe. Finalmente se describen y comentan algunas de las características materiales de este ejemplar del Geka seiso, para su mejor comprensión por un lector occidental.[ABSTRACT]Since 2007, the Historical Library "Marqués de Valdecilla" preserves a copy of Geka seiso, a Japanese blockbook printed in the eighteenth century. Its original title Chinese is Waik'o Cheng Tsung, or Orthodox method of surgery, in English. This medical treatise was written at the beginning of the previous century by Chen Shih-kung, or Chen Shigong, (c. 1555-1636), and in 1791 was printed again in Japan by the imperial doctor Gengai Ogino (1737-1806). This complutense copy is from the collection Francisco Perez-Carral Guerra. This article looks at three aspects of Geka seiso, in a reverse chronological order. First, its acquisition by Dr. Guerra, who bought it in Miami (1990), from the volume of the collection of American Dr. Otto Orren Fisher. Next it analyzes the content of this work, first published in China (1611). in this edition the author (Chen Shigong) included his famous professional and ethical precepts: The Five Commandments and Ten Tenets for Physicians. Finally, we study the historical circumstances of this edition in 1791, probably related to the political process of restoration of Chu His's studies and too the technical process of printing, held in Kyoto by Gonbad Hayashi, Ihe Hayashi and Takemura Kahe. Finally, it describes and discusses some of the material characteristics of this copy of Geka seiso for a better understanding of Western readers.
Collections