Publication:
Biblioteca Histórica "José María Lafragua" de la Benemérita Universidad Autónoma de Puebla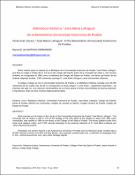 Files
Authors
Advisors (or tutors)
Editors
Publisher
Biblioteca Histórica "Marqués de Valdecilla"
Abstract
Breve reseña sobre la historia de la Biblioteca de la Universidad Autónoma de Puebla "José María Lafragua" que tiene su origen a finales del S. XVI en la del Colegio del Espíritu Santo de la Compañía de Jesús y, tras muchos avatares, es inaugurada en 1885 como la biblioteca del Colegio del Estado de Puebla con libros que fueron de las órdenes religiosas locales, 2300 volúmenes que legó D. José María Lafragua y otros documentos históricos. El antiguo Colegio es hoy la Universidad Autónoma de Puebla y su Biblioteca Histórica custodia unos 90.000 volúmenes de los cuales más del 65 % corresponden al fondo antiguo y a otro fondo —igualmente importante— de impresos del siglo xix, una colección hemerográfica de la misma época y fondos documentales de diversa extensión e importancia, amén de otros muchos objetos patrimoniales.[ABSTRACT]Brief overview on the history of the Library of the Universidad Autonoma de Puebla "José María Lafragua". This University has its origins in late S. XVI at the College of the Holy Spirit of the Society of Jesus and, after many vicissitudes, was opened in 1885 as the library of the College of the State of Puebla. This library gathers books from some local religious orders and 2.300 volumes belonging to the personal collection of D. José María Lafragua and other historical documents. Nowadays, the ancient School is the Autonomous University of Puebla and its Historical Library contains about 90,000 volumes of which over 65% are Rare Books, very important printed books and a collection of newspaper from S. XIX, archival documents and many other heritage objects.
Collections