Publication:
Periodismo relacional participado por comunidades como alternativa en la empresa informativa: estudio de caso a partir de la crisis de la COVID-19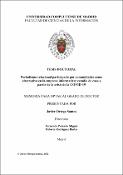 Files
Authors
Advisors (or tutors)
Editors
Publisher
Universidad Complutense de Madrid
Abstract
La gran crisis global acaecida en la primera década del siglo XXI evidenció toda una serie de problemas que la profesión periodística arrastraba desde hacía décadas. En un contexto de incertidumbre generalizada, la industria afronta ahora una verdadera transformación en el concepto de empresa informativa donde no todas las opciones conocidas podrán pervivir y se abrirán paso otras nuevas. Entre las que se consolidan, llama la atención la evolución de aquellas que, en torno al denominado engaged journalism, buscan consolidar dinámicas que garanticen el beneficio económico (indispensable para garantizar su viabilidad e independencia) y reporten al mismo tiempo un fuerte beneficio social. Hablamos de un periodismo basado en relaciones entre los miembros de una comunidad que, respetando el reparto de roles de cada uno, contribuyen a la realización de cada individuo y, al mismo tiempo, generan dinámicas de mayor alcance en favor de la construcción de una identidad colectiva.
The great global crisis that occurred in the first decade of the 21st century brought to the fore a range of problems that the journalistic profession had been sidestepping for many years. Against a backdrop of widespread uncertainty, the media is now fully immersed in a fundamental transformation that is redefining what we understand as an information company, meaning that not all the current options and formats will survive and new entrants will claim their place in the evolving landscape. In terms of consolidation, the progress being made by those outlets focused on engaged journalism as they seek to reinforce a dynamic that both ensures an economic return (essential to guaranteeing their viability and independence) and delivers a strong social benefit is striking. We are talking about a journalism that is built on the relationships among the members of a community who, while respecting the role played by each one, also contribute to the fulfillment of each other's objectives, all the time amplifying the dynamics and breadth of scope that favor the construction of a collective identity.
Description
Tesis inédita de la Universidad Complutense de Madrid, Facultad de Ciencias de la Información, leída el 14-12-2022
Collections