Publication:
Políticas públicas para incentivar el acceso a la financiación de las PYMES en España: el mercado alternativo bursátil (MAB)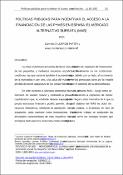 Advisors (or tutors)
Editors
Publisher
Facultad de Ciencias Económicas y Empresariales. Escuela de Estudios Cooperativos
Abstract
La crisis económica actual ha afectado a las posibilidades de captación de financiación de las pequeñas y medianas empresas españolas. Al endurecimiento de las condiciones crediticias hay que sumarle también el aumento del riesgo debido, por un lado, al incremento de la morosidad y, por otro, a la caída del volumen de ventas provocado tanto por la notable pérdida de poder adquisitivo de los consumidores como por el aumento de su desconfianza. En este contexto el Mercado Alternativo Bursátil –en adelante MAB-, surge como un mercado de valores creado y destinado a proveer de financiación a empresas de menor capitalización que, no obstante, desean expandirse y poder llegar a más mercados de lo que su propia estructura financiera podría permitir. El principal objetivo del MAB es dotar de recursos financieros, mediante la aportación de recursos propios, a empresas en fase de expansión, tanto nacional como internacional. En el presente trabajo se analizarán las principales características de este novedoso mercado, así como las ventajas fiscales que incorpora tanto para los inversores como para las empresas.
The current economic crisis has affected the chances of attracting financing of small and medium-sized Spanish companies. To the tightening of credit conditions we must add also the increased risk because, on the one hand, the increase in defaults and, secondly, the fall in sales volume caused both by the significant loss of purchasing power of consumers as by increasing distrust. In this context the Alternative Investment Market (AIM), emerges as an alternative stock exchange market to provide financing to smaller companies, that however, want to expand and reach more markets than its own financial structure could afford. The main objective of the AIM is to provide financial resources, by increasing equity to companies undergoing expansion, both nationally and internationally. In this paper we analyze the main characteristics of this new market and tax benefits for both investors and businesses.
Description
Nº 109 - MONOGRÁFICO: La financiación complementaria y la respuesta de la economía social: la situación del "des-crédito" bajo la crisis financiera
Citation
ARCE, O.; LÓPEZ, E. y SANJUAN, L.: El acceso de las PYMES con potencial de crecimiento a los mercados de capitales. Comisión Nacional del Mercado de Valores (CNMV), Documento de Trabajo nº 52, 2011, p. 1-49. ARIS CODERCH, G; CLOS NOGUERAS,J. et al: Análisis de tributación comparada de la figura de los Bussines Angels en Europa: Estudio para la propuesta de medidas fiscales de fomento. Madrid: Ministerio de Industria, Turismo y Comercio. Gobierno de España, 2009. 106 p. BANCO CENTRAL EUROPEO (BCE): Financing obstacles faced by euro area small and medium-sized enterprises during the financial crisis». Financial Stability Review, junio, 2011, p.134-140. CALDERÓN PATIER, C.: Fiscalidad para inversores y empresas: incentivos fiscales a inversores y ayudas a empresas. En MARIÑO GARRIDO, T. Mercado Alternativo Bursatil. Navarra: pp. 163-180. Editorial Thomson Reuters ARANZADI, 2012, p. 163-180. ISBN: 978-84-9903-117-0CÁMARA DE COMERCIO DE MADRID: El mercado Alternativo Bursatil: alternativa para empresas en crecimiento. Madrid: AUREN, 2010. 96 p. Con la colaboración de la Conserjería de Economía y Hacienda de la Comunidad de Madrid. CANO AFI, D.: El AIM británico y el Alternext francés como referencias para el MAB EE español. Revista de Análisis Financiero Internacional, nº 132, 2008, p.21-29. COMISIÓN NACIONAL DEL MERCADO DE VALORES (CNMV): La financiación empresarial en España: tendencias y retos futuros. Informe Anual sobre el Mercado de Valores y su actuación 2010, 2011, p. 47-73. COMISIÓN EUROPEA. Are EU SMEs recovering from the crisis? Annual Report on EU Small and Medium sized Enterprises 2010/2011, 2011, p. 1-44. DEMARIGNY, F. An EU-Listing Small Business Act, EU MAZARS Group, marzo 2010, p. 1-42. EUROSTAT. European Business. Facts and figures. Luxemburgo: European Commission, 2009. 557 p. ISBN: 978-92-79-12407-5. HM TREASURY. Tax-advantaged venture capital schemes: a consultation. UK: The Stationery Office Limited, 2011, 53 p. ISBN: 978-1-84532-885-6. MARICHAL, C. Nueva historia de las grandes crisis financieras. Una perspectiva global, 1873-2008. Madrid/México/Buenos Aires. Ed. Debate, 2010.424 p. ISBN: 84-83069-00-4. SÁNCHEZ DE LA PEÑA, R. Análisis del segmento de empresas en expansión creado en el entorno del mercado alternativo bursátil operado por el Grupo Bolsas y Mercados Españoles. Boletín de la CNMV, trimestre II 2008, p.51-69. VEGAS ARJONA, P.: El MAB: ¿bolsa o capital riesgo privado? Revista Española de Capital Riesgo nº 1, 2011, p. 57-84. Páginas web: http://www.igape.es (Instituto Gallego de Promoción Económica, IGAPE). http://www.institutofomentomurcia.es (Instituto de Fomento de la Región de Murcia). http://www.enisa.es (Instituto Nacional de Innovación, SA ENISA). http://www.taxation.co.uk. http:// www.bolsasymercados.es (Bolsas y Mercados Españoles, BME). http://www.londonstockexchange.com London Stock Exchange (AIM). http://www.euronext.com Euronext (Alternext).
Collections