Publication:
De-formaciones de la repetición y el trauma, a propósito del deseo de leer el habla de "El padre mío" de Diamela Eltit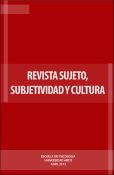 Authors
Advisors (or tutors)
Editors
Abstract
El artículo presenta una discusión en torno al problema de la repetición y el trauma. A partir del texto El padre mío de Diamela Eltit, surge el interés del autor por abordar estos conceptos en el marco que plantea el problema de la producción literaria entendida como un modo de simbolización. La producción en cuestión permite poner en juego un "relato" donde se incrusta una fractura que más allá de responder a una herida sociocultural, permite interpretar la conjugación entre una fractura constitutiva del lenguaje y su posterior actualización, tanto en una dimensión individual como colectiva. Para ello se sigue un recorrido por distintas líneas teóricas psicoanalíticas que delinean lo traumático y su repetición.
Drawing on Diamela Eltit's text El padre mío, the author brings about a discussion around issues of trauma and repetition in this article. These issues are conceptualized under the problem of literary production understood as a form of symbolization. The production analyzed here allows for an interplay in which the narrative is embedded in a split that goes beyond a sociocultural wound, interpreting the constitutive language split and its later actualization within both individual and collective dimensions. In order to achieve this goal, this present work follows several psychoanalytic theoretical trends that delineate the traumatic and its repetition.
Collections