Publication:
The Quaternary Active Faults Database of Iberia (QAFI v.2.0)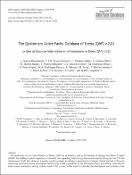 Authors
Insúa Arévalo, Juan Miguel
Martín Alfageme, Santiago
Rodríguez Pascua, Miguel Angel
Advisors (or tutors)
Editors
Publisher
Universidad Complutense de Madrid
Abstract
The Quaternary Active Faults Database of Iberia (QAFI) is an initiative lead by the Institute of Geology and Mines of Spain (IGME) for building a public repository of scientific data regarding faults having documented activity during the last 2.59 Ma (Quaternary). QAFI also addresses a need to transfer geologic knowledge to practitioners of seismic hazard and risk in Iberia by identifying and characterizing seismogenic fault-sources. QAFI is populated by the information freely provided by more than 40 Earth science researchers, storing to date a total of 262 records. In this article we describe the development and evolution of the database, as well as its internal architecture. Additionally, a first global analysis of the data is provided with a special focus on length and slip-rate fault parameters. Finally, the database completeness and the internal consistency of the data are discussed. Even though QAFI v.2.0 is the most current resource for calculating fault-related seismic hazard in Iberia, the database is still incomplete and requires further review.
La Base de Datos de Fallas Activas de Iberia (QAFI) es una iniciativa promovida por el Instituto Geológico y Minero de España (IGME) para construir un repositorio público de información científica sobre fallas con ac-tividad en los últimos 2,59 Ma (Cuaternario). Además, la QAFI persigue establecer una base sobre la que facilitar la transferencia de conocimiento geológico al ámbito tecnológico de la gestión del riesgo sísmico en Iberia, en particular en la identificación y caracterización de fuentes sismogénicastipo falla. La QAFI se ha construido a partir de la información proporcionada de modo altruista por más de 40 investigadores en ciencias de la Tierra conteniendo actualmente un total de de 262 registros. En este artículo se describe la concepción y evolución de la base de datos, y su arquitectura interna. Además, se ofrece un primer análisis global de los datos que contiene, con especial interés en parámetros tan importantes como la longitud y tasa de deslizamiento de las fallas. Finalmente se discuten dos temas cruciales en cualquier base de datos: su completitud y la homogeneidad de los datos. Se concluye que QAFI v.2.0, pese a ser la fuente más actualizada de información disponible en Iberia sobre peligrosidad sísmica de fallas concretas, dista aun de ser completa, por lo que nuevas revisiones y versiones deberán seguir llevándose a cabo en el futuro.
Collections