Publication:
Comparative reflections on the use of modelling tools in conflictive water management settings: The Mancha Occidental aquifer, Spain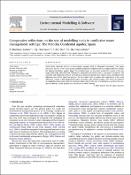 Advisors (or tutors)
Editors
Abstract
Participatory methods provide an increasingly accepted path to integrated assessment. This paper reflects on the role of two participatory modelling initiatives implemented in a highly conflictive setting: the Mancha Occidental aquifer, Spain. The methodologies are described within the context of the case study, examining their potential relevance to integrated assessment from a conceptual standpoint. The strengths and weaknesses of each approach are analysed in absolute and relative terms, attending to the different stages of the modelling process. The focus then shifts to explore the implications of this work within the context of participatory integrated assessment and scenario analysis. This serves the purpose of establishing the reasons why the tools have been useful in the eyes of stakeholders, and how the case-specific findings of this project may be relevant to other settings.
Collections