Publication:
Geoquímica de la casiterita de los filones de estaño del granito especializado de Logrosán (Cáceres, España)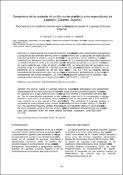 Advisors (or tutors)
Editors
Publisher
Sociedad Geológica de España.
Abstract
La cúpula granítica de Logrosán (Cáceres, España) presenta unas características petrográficas y geoquímicas que permiten definirla como un granito estannífero con un alto grado de especialización. Este stock granítico se clasifica como un granito de tipo-S, peralumínico, rico en volátiles y con elevados contenidos en elementos incompatibles, principalmente en Sn. La mineralización estannífera representa un estadio hidrotermal tardío y se concentra en zonas de alteración tipo greisen y en venas extensionales de cuarzo-casiterita que cortan al granito con dirección N35. La mena principal del yacimiento es la casiterita (SnO2). La casiterita de Logrosán presenta una zonación composicional consistente en un incremento de la sustitución del Sn por otros cationes (Ti, Nb, Ta y Fe). La casiterita alberga frecuentemente inclusiones de rutilo y de columbita que se distribuyen, principalmente, en las zonas más transparentes del mineral encajante. Los mecanismos de sustitución catiónica en la casiterita, rutilo y columbita vienen definidos por la sustitución ideal: 2(Nb,Ta)5+(Fe,Mn)2+ ↔ 3(Ti,Sn)4+.
The granitic cupola of Logrosán (Cáceres, España) shows petrographic and geochemical characteristics which make it possible to define it as a highly evolved stanniferous granite. This stock can be classified as a S-type, peraluminious, volatile-rich granite enriched in incompatible elements, mainly tin. The tin mineralization represents a late hydrothermal stage and it is concentrated in greisen alteration zones and in extensional quartz-cassiterite veins that cut the granite with a N35 trend. The main mineral ore in the deposit is the cassiterite (SnO2). The cassiterite of Logrosán displays a compositional zoning related to the increase for tin substitution in favor of other cations (Ti, Nb, Ta and Fe). The cassiterite frequently contains inclusions of rutile and columbite which are mainly distributed in the more transparent areas of the host mineral. The cationic substitution mechanisms for the cassiterite, rutile and columbite follow the trend defined by the ideal substitution: 2(Nb,Ta)5+(Fe,Mn)2+ ↔ 3(Ti,Sn)4+.
Collections